Amazon Wristband Patent is the Creepiest Idea It Has Come Up With Yet
Efficiency win or privacy fail?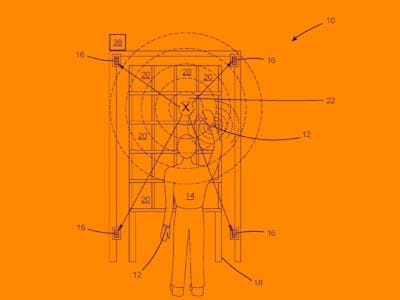 Amazon 
If there was ever a question as to which side Amazon stands in the fight between efficiency vs. privacy, its new patent for a buzzing wireless wristband for its warehouse workers might give us an answer.
Last week, the tech giant's new patents were published, as Geekwire first reported, covering wristbands that can track the location of hands and movement relative to inventory bins via radio transmissions and ultrasonic sound pulses.
Basically, system sensors would triangulate signals from the wristband to determine the location of a worker's hand, and then software would match the worker's hand position with the inventory item that they are supposed to be working on. The system could also send signals back to the wristband, sending "haptic feedback" — like a small buzz — to confirm or correct where workers are going.
Ever since the patent applications were first made last fall, critics brought up concerns about the dark side of such technology and the control that this would give to managers. And such interpretations are not uncalled for, given Amazon's reportedly "bruising" culture for white collar and warehouse employees.
Here's what' Amazon said about the technology to the AFP press service (emphasis ours):
The speculation about this patent is misguided. Every day at companies around the world, employees use handheld scanners to check inventory and fulfill orders. This idea, if implemented in the future, would improve the process for our fulfillment associates. By moving equipment to associates' wrists, we could free up their hands from scanners and their eyes from computer screens.
Like most companies, we have performance expectations for every Amazon employee and we measure actual performance against those expectations, and they are not designed to track employees or limit their abilities to take breaks.
Of course, Amazon's patent application did not mention worker surveillance. Instead, it was all about "inventory management systems." As the patent put it, "improved approaches for keeping track of where an inventory item is stored are of interest."
Here's the patent application's pertinent explainer:
"Keeping track of where inventory items are stored … may require the inventory system worker to perform time consuming acts beyond placing the inventory item into an inventory bin and retrieving the inventory… such as pushing a button associated with the inventory bin or scanning a barcode associated with the inventory bin."
It's worth noting that companies often register for patents that they do not end up using, so just because the patent has been filed does not mean that it will start appearing in Amazon warehouses anytime soon. Other recent Amazon patents that have yet to make it into the real world include underwater storage facilities as well as floating blimp warehouses.
Of course, this is all likely just a stopgap measure until robot workers completely take over.