Mark Zuckerberg Reveals Plan for Better 2018 After Facebook's Hardest Year
Of course it involved Russia.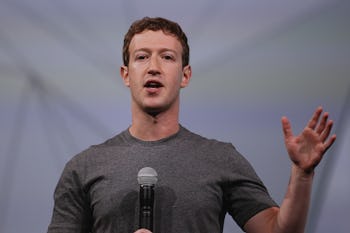 Flickr (Maurizio Pesce)
Facebook's user numbers have dropped, but that's probably the least of its worries right now.
The world's biggest social media site held an earnings call for its fourth quarter and full 2017 financial results this week, in which CEO Mark Zuckerberg admitted the company is facing struggles.
While Facebook's overall daily active users saw a 14 percent increase, with 1.40 billion on average for December 2017, the slowdown in time spent on the platform overshadows this accomplishment.
"2017 was a strong year for Facebook, but it was also a hard one," said Zuckerberg on the call. "In 2018, we're focused on making sure Facebook isn't just fun to use, but also good for people's wellbeing and for society. We're doing this by encouraging meaningful connections between people rather than passive consumption of content."
This led Facebook to make changes within the past quarter "to show fewer viral videos to make sure people's time is well spent." But there was a cost to that decision for the site: Total time spent on Facebook went down by roughly 50 million hours daily, causing user decline in North America for the first time ever.
The decline seems to parallel Facebook's ongoing PR nightmare, which is largely driven by its involvement in Russia's interference with the 2016 presidential election. Zuckerberg himself has also faced a mix of criticism and ridicule for a 50-state tour that appeared to be groundwork for a presidential run, as well as a widely lambasted virtual reality tour of the devastation in Puerto Rico.
On the other hand, the company pointed to Instagram and WhatsApp's growth, noting that its social messaging apps' "Stories" features continue to grow in popularity.
Not to mention, Facebook's increase in advertising spending in the fourth quarter caused its stock to climb following the earnings call.
According to Facebook, its mobile advertising revenue saw an increase in 2017.
"Mobile advertising revenue represented approximately 89 percent of advertising revenue for the fourth quarter of 2017," the company revealed in its latest statement, "up from approximately 84 percent of advertising revenue in the fourth quarter of 2016." This explains the rush to buy Facebook stock within the past 24 hours.
Despite exceeding financial goals and expectations, Facebook's reputation as a cradle of "fake news" among the media and public continues to put its popularity at jeopardy.