What the Heck Is Chris Pratt's 'Cowboy Ninja Viking' Actually About?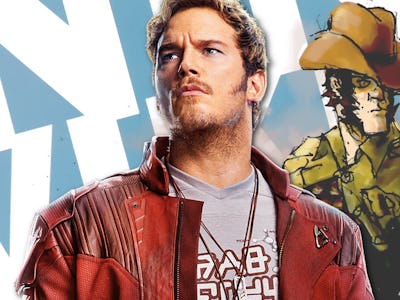 Marvel Entertainment
Chris Pratt may be a guardian of the galaxy, but in 2019, he will also be a cowboy, ninja, and a viking, all at once. And the movie, appropriately titled Cowboy Ninja Viking, finally has a director in Breaking Bad, Game of Thrones, and Westworld director Michelle MacLaren. It's a serious project.
But just what the heck is Cowboy Ninja Viking all about?
On Thursday, Universal Studios announced MacLaren as director of Cowboy Ninja Viking, an adaptation of the 2009 Image Comics series by A.J. Lieberman, who has written several DC titles, and Riley Rossmo. The film has a scheduled release date of June 28, 2019.
A ten-issue action comedy, Cowboy Ninja Viking is about a counter-intelligence task force that turns patients with multiple personalities into agents, called "Triplets." The Comixology summary for Cowboy Ninja Viking describes the plan: "Misguided? Yeah. Impractical? Sure. But did it work? Absolutely not."
When the Triplets turn rogue, Duncan, the deadliest Triplet of all, hunts them all down while using his three separate egos of a cowboy, a ninja, and a viking.
MacLaren is a recent addition, but Chris Pratt has been attached to a film version of Cowboy Ninja Viking since 2014. On social media, Pratt has called Cowboy Ninja Viking a "passion project." According to The Hollywood Reporter, MacLaren beat out Kung Fu Pander director Jennifer Yuh and Rick Famuyiwa, who was once attached to The Flash, for the job.
Cowboy Ninja Viking is now one of the most interesting films in Universal's slate of 2019 releases. The studio currently has big sequels, including Split follow-up Glass, How to Train Your Dragon 3, and Fast & Furious 9, as well as a film version of the hit musical Wicked, and the Japanese video game Detective Pikachu which will have Ryan Reynolds voice the investigative Pokemon.
Cowboy Ninja Viking will be released on June 28, 2019.