How Amazon's Mysterious New Health Care Venture Could Reshape the Industry
Can it have a ripple effect?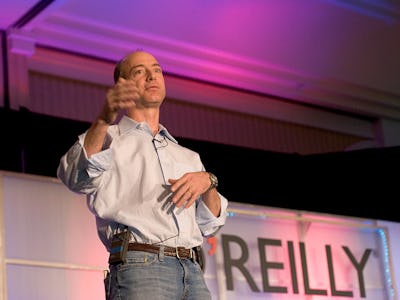 Flickr / etech
Healthcare experts seem to have high hopes for Amazon's take on health care, even if nobody yet knows what it is.
The tech giant announced Tuesday it will partner with billionaire investor Warren Buffett's Berkshire Hathaway and JPMorgan Chase to form a new health care company aimed at lowering insurance costs.
Details of the new company are under wraps, with Buffett himself even indicating many of the specifics still have to be worked out. But the move comes at an interesting time for the health marketplace debate amid attacks from a Republican administration.
Peter Muennig, a public health professor at Columbia University, tells Inverse it's common for large companies to contract the insurance they provide employees through third-party providers. Using the Amazon platform to build a healthcare system is a way of cutting out the intermediaries between insurers and patients.
"My guess is that this is an experiment," Muennig says, noting that last decade Google tried a similar venture — Google Health — which failed terribly because of bad decision making.
"This is where Amazon and the other big corporations have the chance to leverage their power to make it work."
As previously reported by The Washington Post, some major healthcare companies' stock prices have already dropped since the news broke this week, suggesting Wall Street is optimistic that Bezos and company can make a serious dent in how American health care is shaped in the coming years.
The three companies' joint goal is to bring more affordable, stable health care to countless of their employees worldwide. Because most Americans currently receive their health care from their employers, the potential for this new company to bring down overall costs could greatly affect the market.
"The health care system is complex, and we enter into this challenge open-eyed about the degree of difficulty," Amazon founder and CEO Bezos said Tuesday. "Hard as it might be, reducing healthcare's burden on the economy while improving outcomes for employees and their families would be worth the effort. Success is going to require talented experts, a beginner's mind, and a long-term orientation."
Tech's obsession with medical care is nothing new. In fact just last week, Apple announced a medical record database as an "effortless solution bringing health records to iPhone." While Muennig doesn't think that venture will quite work, possibly due to complications over privacy, something like a holistic Amazon health solution might.
"This kind of a partnership could actually succeed due to Amazon's powerful infrastructure," he says. There is also opportunity to integrate food and nutrition into the mix, taking advantage of the massive volume of data Amazon already has on its customer base.
Its acquisitions now include physical stores such as Whole Foods, along with its expansive cloud computing services. Muennig thinks there is a real opportunity to mine users' health habits to bring down costs.
"They can use their existing huge customer base to make it happen."