Google Flights App's New A.I. Predicts Delays Even Before the Airlines Can
It can predict delays before the airlines.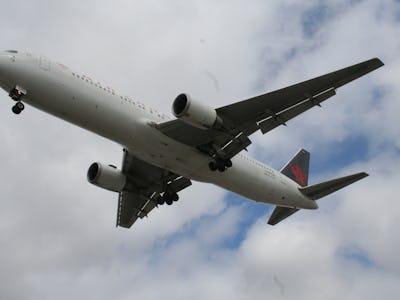 Flickr / Jason O'Halloran
There's no need to rely on airlines for flight status anymore.
Google's Flights feature now provides a more robust set of travel details, thanks to a combination of data and A.I. algorithm.
According to reports, Google Flights will rely on its machine learning algorithms and its fearsome compendium of data to allow travelers access to real-time delays and changes.
Google Flights previously pulled its flight data directly from airlines to help relay the message, but it seems it doesn't even need them anymore.
The A.I. will only inform passengers of the potential delay if it is "at least 80 percent confident." That's pretty healthy margin for error — definitely not something one would use to decide, say, that it's fine to leave for the airport later than planned — but the alert fundamentally promises to be quicker than what an airline can provide.
One of the most interesting perks of the new feature is that not only will delays be "predicted," but Google can also tell you the reason why your flight is delayed. This can come in handy in understanding whether it's down to inclement weather, airline traffic, or something else.
And if you fly budget airlines often, you can now know the struggles of what your "Basic Economy" ticket includes. These days, entry-level airline tickets can mean extra charges for add-ons as basic as beverages or heavy luggage. Google Flights wants to eliminate the guessing out of booking a cheap flight by directly providing information on what's included and what isn't, according to the company.
This move seems natural for flight-tracking services such as Google's. With so many travelers rely on economy fares for their flying needs these days, it makes sense that Google wants to help eliminate some of the qualms that come with flying low-fare.
The news has solidified the status of technology acting as a reliable source for travelers on a budget.
At this rate, services such as Google Flights and TripIt — which even provides estimated waiting times at security — are now offering more details on delays, security wait times and even fare restrictions than the airlines are able to.