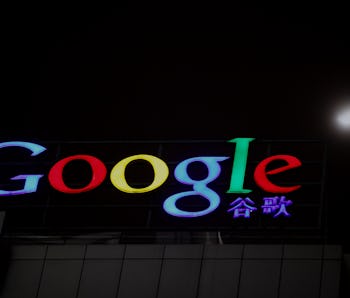 Innovation
Why Google Is Opening an Artificial Intelligence Lab in China
The search engine is still blocked, but Google is investing in China.
Getty Images / Feng Li
Humans don't get to do much with Google in China, where the world's most popular search engine has been unavailable for more than five years. But artificial intelligence is another matter entirely, as Google announced Wednesday plans to open an AI research center in Beijing.
While the various Google sites have been unavailable in mainland China ever since the company declined to continue censoring search results, the country's emergence as a global power means Google can't stay out of China entirely. In this case, the focus is on harnessing China's growing dominance of machine learning research, hence the new Google AI China Center.
"Chinese authors contributed 43 percent of all content in the top 100 AI journals in 2015—and when the Association for the Advancement of AI discovered that their annual meeting overlapped with Chinese New Year this year, they rescheduled," Fei-Fei Li, Google's chief scientist for AI and machine learning, wrote in a blog post Wednesday explaining the move.
The move represents what Li called a commitment to the idea that AI — and the research needed to realize its full potential — has no borders, even if Google's continued unavailability in China is an ongoing reminder that borders very much still exist for humans.
This is one of several research centers Google has opened worldwide. Other locations include London, New York, Toronto, and Zurich, Switzerland, all of which will coordinate their work and their findings both with one another and with outside teams.
"Focused on basic AI research, the Center will consist of a team of AI researchers in Beijing, supported by Google China's strong engineering teams," said Li. "Besides publishing its own work, the Google AI China Center will also support the AI research community by funding and sponsoring AI conferences and workshops, and working closely with the vibrant Chinese AI research community.""
Li further revealed she will be coordinating the team's research efforts, and the center has already hired some luminaries of Chinese AI research. While she officially launched the center Wednesday during an event in Shanghai, it sounds like the center will take several months to come together, with plenty of jobs still to fill.