Why Dexter the Emotional Support Peacock Was Plucked from an Airplane
People tend to bring their emotional support animals everywhere, but not all species are welcome onboard.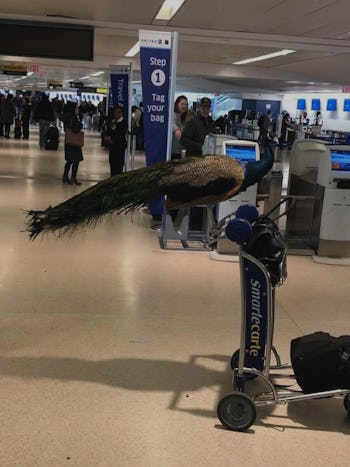 The Jet Set TV Show
A woman who attempted to bring her peacock, Dexter, aboard a United Airlines flight was turned away on Saturday, showing just how determined some owners are to have their pets by their side. Animals of all ilks have been spotted boarding flights in recent years, from a pig that was removed after defecating to a turkey that looked genuinely shocked to be that high in the air.
These animals, including the peacock, were claimed by their owners as emotional support animals (ESAs). Though airlines are legally required to allow ESAs aboard at no extra charge under the Air Carrier Access Act, the animals cannot be too large to accommodate in the cabin or be hazardous to other passengers. The size and weight of Dexter the peacock, who has a fantastic Instagram account by the way, made him over the allowable limit according to United Airlines. Granted, the bird is pictured with its plumage neatly tucked away, but like an overstuffed carry-on, it's likely to expand beyond being able to fit into an overhead bin or under the seat.
To have an ESA, an owner simply needs to have a legitimate doctor's note stating their disability and how the animal in question provides support. The note can be over the phone or even online. The ease of this process means people have been claiming a menagerie of animals as necessary support systems, flashing their notes to bring dogs to the movies or a kangaroo into McDonald's.
But this has also led to abuse of the system. Many pet owners who have no legitimate disabilities are claiming ESAs because they don't want to leave their pets at home or pay for boarding. As demonstrated by Patricia Marx for the New Yorker, many believe an ESA note to be law, allowing animals like turtles, snakes, and llamas into restaurants, museums, and department stores. But the law only states that these animals are allowed on planes (with limitations) and in buildings that otherwise do not allow pets.
When it comes to air travel, each airline has its own rules so it's best to check beforehand. (Delta recently changed their animal regulations, requiring advance proof of training and vaccination.) Those trying to get around the rules obviously infuriate passengers who rely on animals for support. Exploiting a service that some depend on for emotional or physical ability leads to unnecessary hassles, making a difficult time even worse for those trying to travel.