Job Recruiting Site Is Switching to New Blockchain-based Platform
And it promises to put more money in new hires' pockets.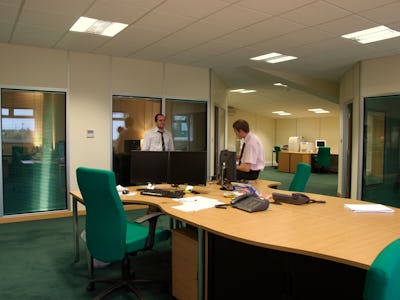 Flickr / DavidMartynHunt
Job.com, the well-known job-seeking site that boasts 60 million users, announced Wednesday it's switching over to a blockchain-based platform this spring.
The site's goal is to cut recruiters out of the hiring process, reducing companies' fees and giving new hires signing bonuses from the savings. The same technology that powers cryptocurrency provides potential job seekers a secure, decentralized way to share their résumé information with companies, eliminating the need for a costly intermediary like a recruiter.
"The typical 20 percent fees charged for the recruitment process will now be reduced to only 6 percent," the company said in a statement. "This will be payable by the hirer for employing the candidate, of which 80 percent of that fee is redistributed to the successful hire as a signing bonus."
Of the announcement, Jobs.com co-founder Paul Sloyan said the last time the recruitment industry saw innovation was with the advent of the internet. It's high time someone revamped it.
"With the current model, candidates and companies are spammed with fake listings, strung along by commission-driven recruiters, or inundated by irrelevant applications," Sloyan says. "Coupling blockchain with our existing job matching technology enables a much needed shift, allowing us to remove recruiters from the equation entirely and focus on the only two parties in the hiring process that actually matter — the hirer and the jobseeker."
With the benefits of a blockchain-based platform, Job.com is hoping candidates will have "increased privacy and control over their data such as contact information, experience, skills and qualifications," all while keeping information private in the blockchain.
Job.com co-founder Arran Stewart echoed the need for a new approach to the hiring process. Because job recruiters have been known to take advantage of both job seekers and providers by asking for unjustifiably high commissions, it's time for them to give up the power.
"We are looking to displace these entrenched recruitment agencies because they have deviated from their intended purpose and are hurting the ability of hard working job seekers to find jobs, and for companies to find qualified talent cost-effectively," Stewart says.
While much of the new platform will resemble the existing job-seeking process, the major difference will be in the backend technology. As the Jobs.com team explained, "During the application process, the candidate's personal information is kept entirely private until further details are required for hirer and candidate to make contact."
While it remains to be seen what advantages integrating blockchain will provide job seekers over more traditional options when it comes to actually getting hired, it will at the very least help keep their information secure and on file for potential employers to seek out.
"Following a successful interview, negotiations around the candidate's hire are conducted and recorded on the Job.com blockchain ledger through smart contracts," the company added. "And once a candidate reaches the agreed probation period, they will receive a signing bonus from the company."