Here Is Grammy's Weak-Ass Response to the Lorde Controversy
"We have a box and the box gets full and filled up."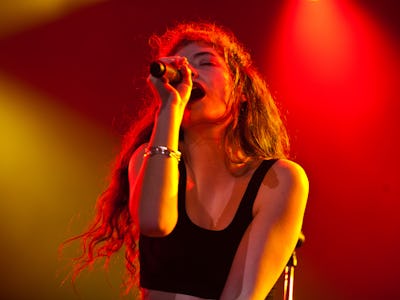 Flickr / liliane callegari
The 60th annual Grammy Awards had a lot of Bruno Mars but not that many women, and the ceremony is being criticized for snubbing Lorde, the only woman to be nominated for Album of the Year, by not offering her a solo performance spot like the four male nominees were. Instead, she was to be part of a Tom Petty tribute. Lorde declined to perform on principle, but her absence was part of a larger theme of the night: The Grammys snubbed women. And, the organizers' response to the criticism leaves a lot to be desired.
Lorde's sophomore album, Melodrama was nominated for the top award, but lost to Bruno Mars's 24K Magic. Jay-Z, Kendrick Lamar, and Childish Gambino were the other nominees, and all four men were reportedly offered solo performance spots, though Jay-Z declined. Why wasn't Lorde given the chance to perform her own, Grammy-nominated material?
"These shows are always a matter of choices, and we know we have a box and the box gets full and filled up," Grammys executive producer executive producer Ken Ehrlich told reporters, according to Billboard. "She had a great album, Album of the Year is a big honor, but there's no way we can really deal with everybody. Sometimes people get left out that shouldn't, but on the other hand, we did the best we can to make sure that it's a representative and balanced show."
Notice how Ehrlich's response is phrased in a way that just so happens to take all agency away from the people who organized the ceremony. They had a box… and the box got filled up. Nevermind that, as an executive producer, he's one of the people who was filling up that box. The choice was made not to offer Lorde a solo performance spot.
His comments that at least the Grammys were a "representative and balanced show" ring somewhat hollow as well, since the lack of parity between male and female Album of the Year nominees is kind of the whole issue at hand. It doesn't help that only one woman won an award during the main telecast on Sunday. Alessia Cara was the only woman to win an award during the main event, taking home the trophy for Best New Artist. SZA, the most-nominated woman of the year, went home empty handed.
Variety asked the Recording Academy President Neil Portnow about the gender controversy. His response? "Step up."
It has to begin with… women who have the creativity in their hearts and souls, who want to be musicians, who want to be engineers, producers, and want to be part of the industry on the executive level… [They need] to step up because I think they would be welcome. I don't have personal experience of those kinds of brick walls that you face but I think it's upon us — us as an industry — to make the welcome mat very obvious, breeding opportunities for all people who want to be creative and paying it forward and creating that next generation of artists.
Ah, nothing like a man in a position of power in a notoriously male-dominated industry admitting that he has no idea what systematic hurdles women have to deal with and then telling them to "step up."