Jason Isaacs Was "Intimidated" By Michelle Yeoh in Big 'Star Trek' Fight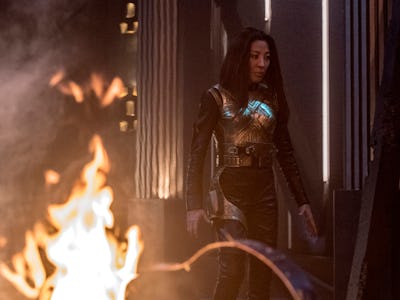 CBS
In the 13th episode of Star Trek: Discovery — "What's Past is Prologue" — the show finally let Michelle Yeoh do what she does best: kick some serious ass. The martial arts star, famous for Crouching Tiger, Hidden Dragon has a big fight scene in the latest Discovery episode. But just how hard did Lorca's ass get kicked? Jason Isaacs says he wasn't just afraid of Michelle Yeoh. And that's because Sonequa Martin-Green is a badass, too.
Spoilers ahead for Star Trek: Discovery episode 13, "What's Past is Prologue."
Speaking to Inverse about the newest episode, Isaacs said "Michelle Yeoh could do that fight choreography in her sleep. She moves, well, she moves like Michelle Yeoh. Michelle has a fluidity to her that is beautiful."
Isaacs felt that the fight scene in which Lorca grapples with both Burnham and Georgiou was pivotal because the fight isn't just about punches and kicks. "It's more about can you tell a story with the fight," he said, explaining that the story of what is really happening is all about Lorca's inability to except that Burnham won't join him. And, when it came to badasses, Isaacs wasn't only afraid of Yeoh, but Sonequa Martin-Green, too.
"I expected Michelle to be good. And she was, and it was intimidating," Isaacs says. "But the thing that surprised me as Sonequa, who I had not seen fight. I mean, I'd seen Michelle in movies. But Sonequa fights like a Nintendo warrior. Her moves are so crisp and clean and sharp. And fighting is all about punctuation."
For fans who have been following Discovery since last fall, the big fight scene between Lorca, Burnham, Georgiou, and Landry will feel like a huge payoff. Not only does it look great, but the results have a definitive end. Let's be honest, after being both stabbed and vaporized, there's no way Lorca is coming back.
There was also an element of this final fight scene reminiscent of the original Sixties Star Trek.
People like to talk about how Trek is all about peace, but for fans of the original series, there's a giant fight scene in like every other episode. The biggest difference in Discovery, of course, is that now, the "Captain" got his ass beat, instead of the other way around.
There are only two episodes left in Star Trek: Discovery's first season. They will air over the next two Sundays at 8:30 pm eastern time on CBS All-Access. The season finale will air on February 11, 2018 and is titled "Will You Take My Hand?"