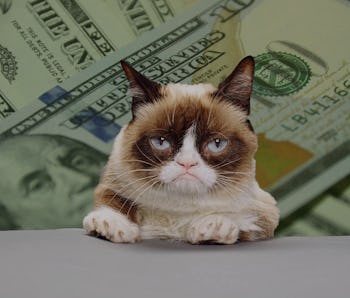 Culture
Grumpy Cat Wins Major Court Battle, Moves Closer to World Domination
Don't mess with cats — especially rich ones.
Grumpy Cat Facebook/Eric Francisco/Inverse
Internet sensation Tardar Sauce, professionally known as "Grumpy Cat," can now add "seasoned veteran of the law" to her already staggering résumé, which includes actress, model, and pawther of two books.
This week, a judge in a California federal district court awarded Grumpy Cat and her human, Tabatha Bundesen, $710,000 in a copyright infringement suit. According to a complaint filed in Ronald Regan Courthouse, Grumpy Cat Limited sued the owners of coffee company Grenade for using Tardar Sauce's image more than the two entities had once agreed to.
The complaint states that Grenade had the rights to use Tarder Sauce's image for its "Grumppuccino" drink, but not on its other merchandise, which it apparently did in droves. Images included in the document show a line of coffee products that prominently feature Grumpy Cat's name and face, which Grumpy Cat LLC owns all the rights to:
Though the legal battle lasted about three years, the trial itself was just a week long. During that time, Tarder Sauce did make an appearance, which we can only assume she was unhappy about.
"Grumpy Cat feels vindicated and feels the jury reached a just verdict," David Jonelis, the attorney for Grumpy Cat Limited, said, according to Courthouse News.
While $700,000 is a drop in the bucket of Grumpy Cat's multi-million dollar empire, we can only hope that defeating humanity in their own court of law would make her smile.
"Ironically, while the world-famous feline Grumpy Cat and her valuable brand are most often invoked in a tongue-and-cheek fashion, defendants' despicable misconduct here has actually given Grumpy Cat and her owners something to be grumpy about," the court complaint reads.
Grumpy cat did not immediately respond to Inverse's request for comment, even though we asked very nicely.