Dear AMPAS: It's Time to Give an Oscar for Stunts
Stunts are an essential part of movies, but get no respect.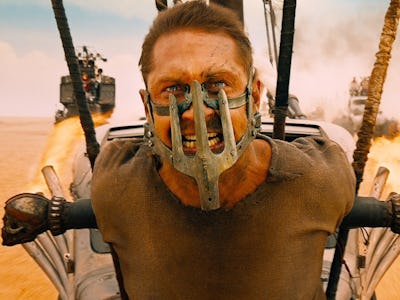 YouTube.com
Should people who regularly get lit on fire, or drive a car out of an airplane mid-flight, or climb the tallest building in the world all for cinema be awarded with the medium's highest honor? According to the people who give out the awards, the answer is and always has been an emphatic no. That, of course, is the wrong answer.
Stunt coordinator Jack Gill has led the charge to recognize stunt people with an Oscar category for their perilous work bringing to life the dangerous things that the so-called "talent" can't (or won't) do onset. Despite championing the cause of movie stunt people for the past 25 years, with annual bids to the Academy of Motion Picture Arts and Sciences to create their very own category, the AMPAS continues to ignore him and the dozens of stunt people, filmmakers, and producers who think otherwise.
The Academy's 51-member board of governors met today to take up issues pertaining to the industry, and though Gill hoped the idea of an Oscar for stunts would be floated at the annual meeting, it's probably a longshot. Again, this is nuts.
In the past, the Academy has recognized certain additions to the medium with two non-competitive awards: an honorary Oscar given to legendary stuntman Yakima Canutt in 1986 and another honorary award to stuntman and director Hal Needham. Other than that, stuntmen just get the pride of watching their work onscreen and a pat on the back come Oscar night.
Hollywood heavyweights such as Steven Spielberg, Johnny Depp, Martin Scorsese, Brad Pitt, Vin Diesel, and Arnold Schwarzenegger have all backed Gill and his Oscar cause, so what gives? The Emmys and the SAG Awards each have stunt award categories, so why couldn't the Oscars stop ignoring an essential part of making the escapism of their best Hollywood spectacles?
An L.A. Times profile suggests this apparent conspiracy may be a simple question of numbers. Only 31 stunt coordinators are members of the Academy, a relatively small pool to choose from each year in a would-be Oscar category. The smallest category right now, costume designers, has 125 recognized AMPAS members.
Then there's also the question of how stunts would potentially be honored. Would the work for an entire movie be given the award? Would a single stunt by a varied group of craftsmen be honored because everybody pitched in to pull off the stunt? Or would the AMPAS give out individual awards, like other categories? This is easy stuff to sort through, but it still counts as an excuse to the bigwigs.
The imperative here seems to be that the main governing body of movies is in denial over its own medium. They're shunning a group of craftsmen and daredevils whose jobs determine the quality and impact of a film as much as others who accept Academy Awards each year.
Without them we wouldn't have some of the best moments in movies. We wouldn't have the iconic chase scene in Stagecoach, we wouldn't have a Ford Mustang ripping through San Francisco in Bullitt, we wouldn't have Indiana Jones being dragged between the wheels of a Nazi truck, we wouldn't have the zero-G fight scene in Inception, we wouldn't have the Burj Khalifa scene in Mission Impossible: Ghost Protocol, we wouldn't have cars parachuting out of planes in Furious 7, and we wouldn't have absolutely insane car carnage in Mad Max: Fury Road. Without their stuntwork, those movies would've been unthinkable, unwatchable, unmakeable. It defies rationale that the Academy ignores the dudes who defy death for their craft.