'Wonder Woman' Fans React to Oscars Snub in Pain and Memes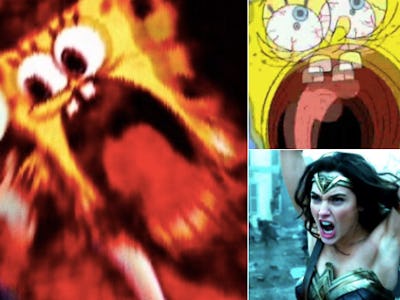 @whovianholland
In 2017, Wonder Woman commanded the cultural zeitgeist in a way that no other movie managed to do. Upon its heroic debut in theaters, it achieved the highest-grossing opening weekend for a female director on record, raking in $223 million globally. Screenings of the film exclusively for women-identifying folks caught headlines as ladies flocked to see the film in droves, and some men lamented to being left out. The drama didn't really make a dent; by November Wonder Woman had become the highest rated superhero movie of all time on Rotten Tomatoes.
Still, the film's cultural ascension did nothing to sway members of the Academy on Tuesday, as Wonder Woman was left out of all 24 Oscar categories.
In a year where championing female visibility across virtually every platform gained major traction, Wonder Woman's absence from the Oscars was noted by fans and critics alike. Reactions were swift — and in some instances savage — towards the Academy.
Others expressed how just plain bummed they were that a movie so beloved ended up getting totally overlooked.
The time-honored excuse that the Oscars exclude hard genre films was scoffed by many on Twitter Tuesday, especially as a few genre films snuck onto the list, including the incredible horror film Get Out.
Still, some couldn't help comparing the slight to yet another super hero movie that did get some Oscar action; Suicide Squad won "Best Makeup" in 2017.