The Oscars Totally Snubbed One of the Best Batman Movies Ever
It's bad enough that Bruce had to lose both his parents.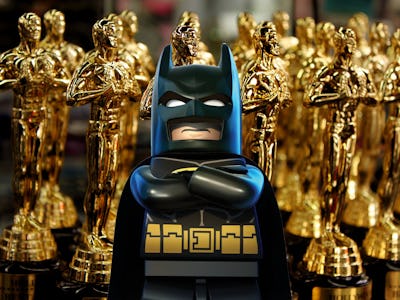 Prayitno - Flickr / Warner Bros. Pictures
Forget your complaints about James Franco or The Big Sick being snubbed in the 2018 Oscar nominations, because the biggest travesty to come out of the noms was the academy completely ignoring one of the best Batman movies ever: The Lego Batman Movie.
Announced on Tuesday morning, the 2018 Oscar nominations included several significant noms for the likes of Jordan Peele's Get Out and Guillermo del Toro's Shape of Water — but absolutely nothing for the Dark Knight. The Lego Batman Movie* came out February 10, 2017, so it's probably not fresh in many people's minds, but it still stands as one of the best animated features of the year.
So why wasn't it nominated for Animated Feature?
The nominees in that category include The Boss Baby, The Breadwinner, Coco, Ferdinand, and Loving Vincent. Notably, the same thing happened in 2014 with The Lego Movie — a widely loved animated feature about Lego characters was snubbed by the Oscars.
Chris Miller, one of The Lego Batman Movie's producers, had a fitting response Tuesday morning following the formal announcement of the nominations:
Even Logan — from the world of X-Men, a Marvel property — picked up a nomination for Best Adapted Screenplay this year. Across the board, there's no love for any DC Comics-related property here in 2018.
Sure, Justice League was, generally speaking, pretty shrug-worthy, but Wonder Woman remains one of the top-rated superhero movies ever. Where was Patty Jenkins's nomination for Best Director? Or, heck, a single nomination for the beloved film?
The Lego Batman Movie remains Certified Fresh on Rotten Tomatoes at 91 percent, whereas Ferdinand rests at 70 percent, and the horrific Boss Baby sits at 52 percent. Sadly, popular opinion hardly matters when it comes to the academy.
But what exactly do they have against Lego?
If you missed it, stream The Lego Batman Movie on HBO right now.
The 90th Academy Awards will air on Sunday, March 4.