Dwayne Johnson to Punch Lovecraftian Horror in 'Rampage' Adaptation
Monster of a man to play a man who becomes a monster, man.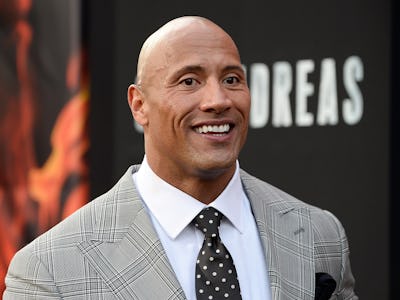 Getty Images
Have you ever watched a Dwayne Johnson film and thought, "This is a man who could go beserk at any moment?" You weren't the only one. New Line and producer Beau Flynn have signed on Dwayne Johnson to star in Rampage, an adaptation of the video game franchise in which scientists become gigantic monsters and destroy everything in their path, and you basically ladle quarters into an arcade game to keep destroying America.
It seems silly at first, but perhaps there is rich material to be found in Rampage. Like the upcoming Power Rangers movie, there could be a thematic depth not easily noticeable in what was originally observed to be one of the most mindless coin-fed games of the late 20th century. Let's put faith in the creative team as they craft what could be a cosmic, existentialist horror that would make Lovecraft himself proud. Fused with the tokusatsu traditions of Ishiro Honda's Godzilla and Eiji Tsuburaya's Ultraman, Rampage could be a neo-blockbuster masterpiece that defies our expectations.
The nihilist nature of giant monsters highlights the futile effort of the human experience, but it could also be one of optimism. Why not try our best? Why not collect on our efforts when our efforts are all to be collected?
There are achievements in filmmaking, and then there are achievements we remember as watershed moments that define our generation. Dwayne Johnson possibly playing a giant ape (or lizard (or wolf)) will be that.
Or not. Rampage is set for a summer 2016 release either way.