How to Get the 2018 Legendary Pokemon In the 3DS Games
Dialga and Palkia kick things off in February.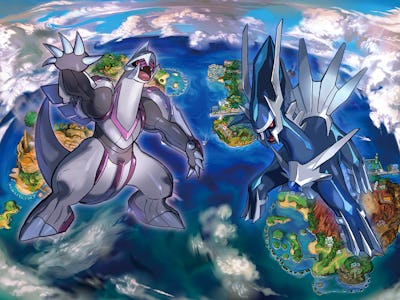 Forget that call you put in to Detective Pikachu, because we know exactly how you can get tons of free Legendary Pokémon throughout 2018 in Pokémon Ultra Sun, Ultra Moon, Sun, and Moon.
The Pokémon Company International announced Tuesday that 2018 would be a year filled with Legendary Pokémon, and they've made an entire website dedicated to the endeavor: PokemonLegendary.com. Throughout the year, there'll be tons of different activities across the many Pokémon platforms, including the main games, Pokémon GO, the trading card game, and others.
Following the initial announcement, the Pokémon Company offered up more details on their "legendary" website about how players can acquire awesome Legendary Pokémon in the Alola region-based games, and now we know exactly how to do it.
You'll need access to a wireless connection and access to a participating GameStop location, but other than that, the monthly Legendaries should remain totally free — you won't even need to fight them.
Here's how you can grab these Legendary Pokémon, starting with Palkia and Dialga from February 2 - 28 (Palkia in Ultra Sun or Sun and Dialga in Ultra Moon and Moon). The process should remain the same throughout the year for each monthly pairings.
Visit a GameStop to receive a code for that month's Legendary Pokémon.
Start any Generation VII game.
Select Mystery Gift from the main menu.
Select Receive Gift.
Select Get with Code/Password, then Yes, and then Yes again to connect to the internet.
Enter your code.
Watch a brief sequence.
Speak to the delivery person in any Pokémon Center to pick up your new Pokémon.
Save your game!
It's worth noting that given the choice, it's better to redeem these codes in the Ultra games. Legendaries redeemed in such a way will be Level 100 with better movesets as opposed to Level 60.
The codes themselves are valid until May 23, 2018. You just have to make sure you visit GameStop sometime in February, so you don't necessarily have to redeem the code immediately.
For more information about which Legendary Pokémon you can grab each month, visit the official website.
Here's a look at the official announcement trailer for this Legendary year: