Protect Your Data with 2TB of Super-Secure Cloud Storage
Protect your many, many, many secrets.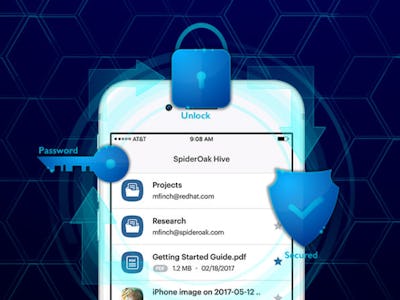 Stack commerce
Truth be told, you probably should be keeping your important documents somewhere a little more secure than your iCloud account or in a big folder on your desktop titled "PRIVATE!!1!" That's where SpiderOak comes in, a super-high-security cloud storage system with a name that has the word "spider" in it, which, on top of everything else, is very cool.
SpiderOak uses end-to-end encryption to make sure that your data is perfectly safe from the moment it leaves your computer to the moment it's stored away on their servers. You can also sync data between all of your devices, regardless of operating system, and share files securely with others through its web interface.
SpiderOak also offers "No Knowledge" protection. They don't have access to your password, any of your data stored on their servers, or even the metadata associated with your files. That's right, even Mike SpiderOak, CEO of SpiderOak (not a real person), can't watch the humiliating home videos you stored away two years ago. In the case of a catastrophic emergency, SpiderOak's unique recovery feature can recover your data to its original state. It also gives you access to previous versions of your data, like a time machine only less expensive.
A 2TB Plan of SpiderOak is typically $259.99, but for a limited time, Inverse readers can get it for only $39.99 — a saving of 84 percent. That's right, for just $40 you could store 400 copies of Avatar in 1080p. What's more, it would stay a well-kept secret forever that you're doing something so insane.