Forget 'Venom,' Here's Tom Hardy's Lost 1999 Rap Mixtape
Somehow it's not poisonous?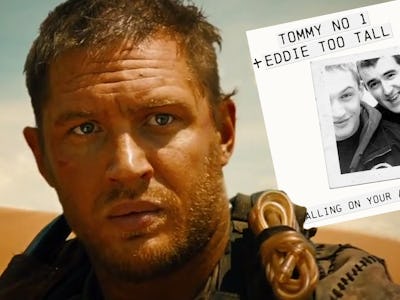 Warner Bros.
Tom Hardy is notorious for playing parts which require him to obscure his face with a mask for most of the movie — think Bane, Mad Max, and his Dunkirk fighter pilot. The easy joke to make would be that he's hiding his face in shame because of a hip-hop mixtape he made in 1999 when he was a fledgling rapper. It would be a good joke except… the mixtape is actually pretty good?
The 18-track mixtape, 18-track Falling on Your Arse in 1999, started making the rounds on Thursday after the whole thing ended up on Bandcamp. Hardy's brief career as a rapper isn't new, as he admitted that he had a recording deal when he was a teen but never released anything in an interview with BBC years ago.
"Because I come from a nice middle-class neighbourhood it was a very hard sell," he explained. "And I wasn't very good!"
He's perhaps being to hard on himself. While his rapping as "Tommy No. 1" is decidedly of its time, the beats and flow aren't half bad, though the lyrics he wrote aren't exceptional. His buddy Edward Tracy, who produced the songs under the pseudonym "Eddie Too Tall" and put the mixtape on Bandcamp, probably had something to do with it.
It's not an amazing mixtape by any stretch of the imagination, and it's easy to see why Hardy went on to become an actor famous for his largely wordless performances rather than he teenage white rapping. That's the most interesting thing about Falling on Your Arse in 1999. It's a fascinating "what-if," and a revealing look at one of Hollywood's actors back when he was just a tryhard teen recording music in his bedroom.
Stream the full mixtape below. I'm partial to the tenth track, "Bring the F__king Noise."