Never Go Without a Full Battery Again With This Solar Charger
Charge your phone literally anywhere.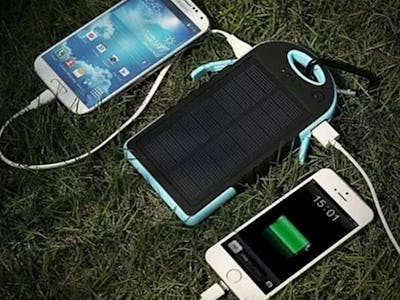 Stack Commerce
What would you bring with you to a desert island? For me, it's a fully-functioning home theater and an indestructible MacGruber DVD. For other, less interesting people, it might be things like a knife, a set of matches, a rope. Stuff to help you survive.
Well, now you can bring your phone, too, without fear of it running out of battery before you call for help because you had to catch up on your crush's Instagram stories first. The Universal Waterproof Solar Charger will help you stay powered even when you go (very) off the grid. Seriously, civilization could collapse and you'd still be able to juice up your devices.
This thing is waterproof, shockproof, and its 5,000mAh battery capacity is more than enough to charge most gadgets. Unlike most portable batteries, this one doesn't become useless once it loses its power. It draws up energy from the sun's rays, so it will keep working as long as the sun shines (For those of you living in the Northwest, hey, it's maybe still worth a shot?)
This solar charger comes with two ports and is compatible with iPhones, Androids, the whole deal. It also has a USB-to-micro USB adapter and a 4-pin adapter in tow. With its mountaineering clip, you can easily attach it to your backpack when you go exploring, too.
The Universal Waterproof Solar Charger usually goes for $49.99, but Inverse readers get a pretty sweet deal and can take one home (or up a mountain or whatever, you do you) for only $13.99).