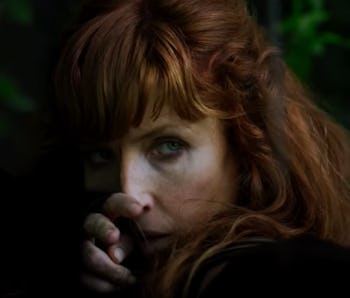 Entertainment
'Britannia' Looks Likes Like 'Game of Thrones,' But Proudly Dumb
Amazon
Fantasy often takes itself too seriously, so it's refreshing, on occasion, to watch beefy dudes wearing armor and a thick layer of grimy viscera wail on one another with huge swords without pretending that it's high art. That's what Amazon's upcoming historical fantasy Britannia is all about, based on a new trailer from the streaming service.
The series, which premieres later this January, takes place during the Roman Empire's invasion of Celtic Britain. General Aulus Plautius, as played by David Morrissey (the Governor in The Walking Dead), is leading the invasion, but the Celts stand in his way. And, these Celtic druids like to do throw weird, sexy magic parties, though the trailer doesn't make it completely clear whether or not there's actually going to be magic in the series. Kelly Reilly (Sherlock Holmes) and Ian McDiarmid (Emperor Palpatine in Star Wars) also star in the upcoming series.
Rather than wistful fiddles and flutes we typically associate with Celtic music, Britannia's trailer is score with some try-hard rock and roll, which, frankly, is just perfect. This show looks like dirtbag Braveheart.
Here's the official synopsis, via Amazon:
Britannia begins in 43AD as the Roman Army, determined and terrified in equal measure, returns to crush the Celtic heart of Britannia, a mysterious land ruled by warrior women and powerful druids who can channel the mysterious forces of the Underworld. Arch Celtic rivals Kerra and Antedia must face the Roman invasion led by Aulus Plautius as it cuts a swathe through the Celtic Resistance.
Look, Britannia almost certainly won't be the next Game of Thrones, but the Sky Atlantic and Amazon production does have something that HBO's critically acclaimed juggernaut doesn't have: A 2018 premiere date.
All 10 episodes of Britannia will be available to stream on Amazon Prime on January 18.