Men's Health Startup Roman Launches App to Track "Morning Wood"
Would you log your erections for health?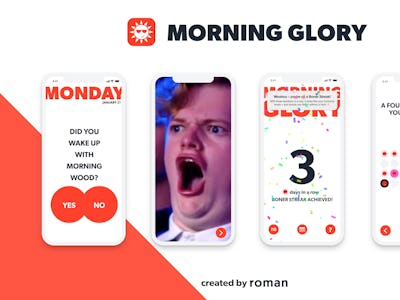 Need to document your morning erection? Now there's an app for that!
Roman, the men's sexual health app that launched last year, wants men to start logging their "morning wood" as soon as they wake up.
Once a day, when you first open the aptly named "Morning Glory" app, it will prompt you to answer the simple yes or no question: "Did you wake up with morning wood?"
The fun begins from there.
Depending on your answer, the app will take you to a GIF-filled screen, so you can get a laugh out of the blush-inducing response. According to Roman, logging three morning erections in a row unlocks a "confetti party" to celebrate your streak success.
But behind the the silliness is a serious concept: tracking your sexual health.
"One of the best indicators of a guy's overall health is whether or not he wakes up with an erection," a company spokesperson tells Inverse. "If you wake up with morning wood it means your blood flow & hormones are working properly, and that you're at a lower risk for things like diabetes, heart diseases, or other chronic diseases."
For example: if you log "no erection" for three consecutive days, the app will suggest you chat with a physician and offers a free phone consultation with Roman's Clinical Director. Responses will also be automatically logged in a calendar that displays your monthly history of "morning wood" and "boner streaks" to help generate monthly data.
Despite the fun marketing, the Morning Glory app is being backed by Dr. Steven Lamm, the Medical Director at the NYU Center for Men's Health, who explains the important signals men's bodies send via erections.
"If you're experiencing a diminished erection, it's often the first sign of a far more serious condition that could be brewing," Roman says in the app's preview. "Think of ED as the man's equivalent to a car's check engine light."
And if the idea of logging your morning status is uncomfortable, well…that proves the point of Morning Glory.
"Talking about erection issues is so highly stigmatized, men rarely talk about them, not even to their own doctor," parent company Roman says. "So even though ED is the earliest sign that something might be off, men wait until things get worse before talking to their doctor. And that's not good for anybody."