Here's How to Fix Your Dry-Ass Skin This Winter
Stay warm but stay chill, too.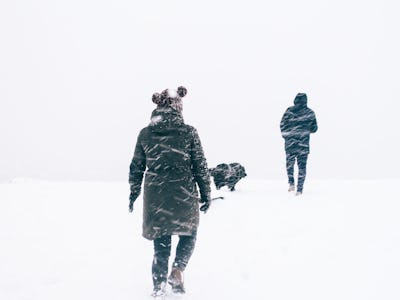 Unsplash / Seb Creativo
Winter is such a chore, from wrapping up in 8,000 layers every time you leave the house, to wrestling with whether you can ethically order delivery in below-freezing temperatures. The chore many of us neglect the most in the darker months is skincare: a word that strikes fear into us all. But it doesn't have to be scary. Hell, it doesn't have to be hard at all. Here are 11 things on Amazon to help your skin stay acceptable all winter long.
Easily one of the best, most popular lip balms on the market. People swear by the Jack Black line, which does come at a premium but doesn't feel nearly as invasive or uncomfortable as most of the cheaper options. Plus, it keeps your lips from cracking and chapping all day. Amazon, $7.50
For those who want their lips to stay moisturized but also want to project nonstop that they are A MAN, DAMMIT. Comes in a pack of four so you can use them twice and then lose them at will. It's good stuff, on top of all that: organic and cruelty-free. Amazon, $14.95
This stuff is all-natural, and leaves your lips feeling protected and tingly. What more could you ask for? Amazon, $10.44
This all-natural moisturizing solution can be used as an aftershave, too. It'll help your face-skin stay chill, not chilled, round the clock. Amazon, $14.95
Another organic, nice-tasting lip balm for those days when the windchill just don't quit. Beeswax balms are known for their year-round efficacy without any crazy fancy scientific compounds. Save the bees! Amazon, $7.99
One of the most popular men's moisturizers on the market, and for good reason. This bottle will last forever and there's not a chemical in sight. A barely-there but still unmistakeable herby fragrance helps keep you feeling fresh and fancy. Amazon, $35.00
"Lather" and "wood", two words dudes love when it comes to their bathroom products. This completely odorless moisturizer gets the job done without any fuss, and it's great for all skin types. Amazon, $19.97
Look, sometimes you want something simple. This greek moisturizer, which can be used for the face, hands, hair, nails, you name it, is made of only four "PURE" ingredients: Olive oil, almond oil, lavender oil, and grapeseed oil. Sounds too good to be true, but the four-and-a-half stars from over 1,300 customer reviews speak for themselves. Amazon, $14.99
Do Norwegians have famously good skin? I have no idea, but Neutrogena seems to be banking on that stereotype. Anyway, this will keep your hands nice and moisturized. Amazon, $22.57
Burt's Bees has a respectful stranglehold on the natural skincare market, and for good reason. It's inexpensive, it smells nice, and it works. Burt's hand salve is for the working man, designed to be applied "before or after" outdoor activities, but [whispers] you can use it whenever and it works as a great moisturizing lotion, too. Amazon, $6.99
Another Jack Black recommendation, but the brand has earned two spots on this list: Its hand healer is best for harsh conditions and soothing hands after a rough day out in the cold, but it's great for everyday use as well. Amazon, $15