Are There Any Easter Eggs in 'Philip K. Dick's Electric Dreams'?
Not in the traditional sense.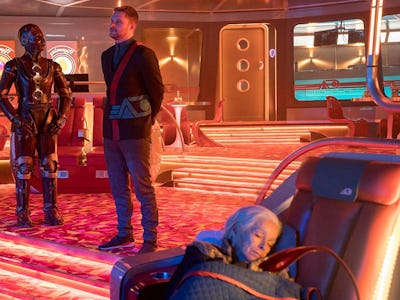 Amazon
Amazon's new anthology series based on the works of one of America's greatest science fiction authors, Philip K. Dick's Electric Dreams, premiered on Friday, and it's already being compared to Black Mirror. The comparison is understandable, but not necessarily fair. Even so, newcomers to this new sci-fi anthology series might wonder if they should be keeping an eye out for one of Black Mirror's hallmarks: copious amounts of Easter eggs linking all the varied episodes. Did Philip K. Dick dream of Easter eggs?
Not in the traditional sense, showrunner Michael Dinner explained to Inverse. Whereas pretty much every Black Mirror episode features some winking reference to a character or technology from another entry in the series, Electric Dreams doesn't have concrete links between its 10 episodes. That doesn't mean there aren't subtle throughlines throughout the series.
"As the scripts started coming in, even though they were wildly different, there we elements. from production design to some of the camera work, where there are Easter eggs there," Dinner explained, employing a pretty liberal definition of "Easter egg."
He explained that he'd taken Harry Gregson-Williams main theme for the series and given it to the four other composers and encouraged them to weave riffs of it into their scores.
"You know that kids game where you get everyone in a circle and wisper and see how it comes out on the other end?" Dinner explained.
So, not exactly the smoking gun sort of Easter egg that fans like to find, but a connection of some sort. It's perhaps for the best, since Electric Dreams is at its best when it's focused on emotion, rather than meta technicalities.
That said, Dinner would like to ramp up some of the connections if Electric Dreams gets renewed for a second season and beyond.
"I think that in year 2, year 3, I would try to drop even more stuff like that," he said.
Philip K. Dick's Electric Dreams is currently streaming on Amazon.