California Mudslides: 7 Maps, Pictures of the Montecito Destruction
Rains after wildfires create a terrible recipe for disaster.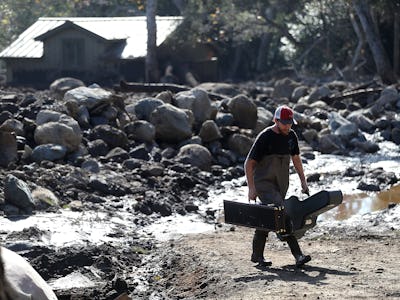 Getty Images / Justin Sullivan
Heavy rains from Tuesday morning in Santa Barbara Country inundated a Southern California community with mudslide devastation. As of Monday, at least 20 have been killed, and four people remain missing, according to the Santa Barbara County Sheriff's Office.
The 20 casualties occurred in the Montecito area of Santa Barbara County, after downpours of more than three inches drenched areas previously burned by the Thomas Fire that torched much of California last month. But it wasn't the amount of rain which caused the mudslides — it was the torrential speed with which it fell.
Around 4:00 a.m. Pacific Time Tuesday, mudslides drove debris into the community downhill, destroying over 100 homes and damaging another 300 others. The mudslide ended up rupturing gas mains throughout Montecito, creating fires in several places. Authorities fielded over 600 phone calls made to emergency dispatchers, and first responders had to use helicopters to rescue about 300 residents trapped by debris blocking the way out of the area's Romero Canyon neighborhood.
As harrowing as the mudslides have been, they were also predictable, even at this scale. The Thomas Fire's turned 450 square miles of the Santa Ynez mountains into a precarious, unstable ground ready to get washed off at any moment. The fires burn through the trees and plants holding the ground together. Fires also scar the surface and burn off other carbon-rich material sitting on the soil which would normally absorb rain. In their absence, the soil becomes incredibly loose and unable to soak water deeper into the ground.
And the rains came soon enough, after nearly a year of drought, and repeated what scientists often refer to as the "fire-flood cycle" — where forest fires tearing through mountainous regions are quickly followed by heavy rainfall. Muds formed, and swiftly moved down towards the communities down south, carrying loads of debris like rocks and boulders with them.
In the aftermath of rains, the porous soil becomes even more dense and water repellent, which makes the region more prone to mudslides should sharp rains hit the surface again.
Here are six photos and maps that describe how we got into this situation, and the consequences for residents in currently dealing with the disastrous effects.