Why A Computer Named UCF the Champ, According to the Scientist Who Made It 
College football at its most sublime and ridiculous.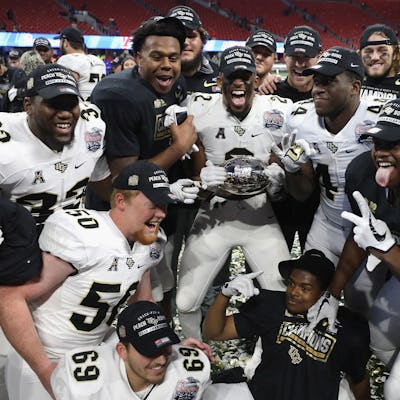 Getty Images / Streeter Lecka
On Monday night, the Alabama Crimson Tide and Georgia Bulldogs played an unexpected classic in the national championship game, with Alabama rallying from a 20-7 fourth quarter deficit to win in overtime. The game capped off the 2017 season in style. But as far as the University of Central Florida Knights were concerned, they had already crowned themselves champions a week earlier.
After beating the Auburn Tigers in the Peach Bowl, UCF finished off its season 13-0 making the Knights college football's only unbeaten team. The school threw itself a parade, awarded the coaches their bonuses for winning the title, and even changed their official twitter handle to "2017 National Champions."
According to one rankings computer, UCF might actually be right in saying they're the true champs, even if its creator tells Inverse the picture is a little more complicated.
To anyone unfamiliar with college football's inherent weirdness, this all must seem beyond bizarre — how can there be more than one champion? But this is the trouble with a sprawling sport in which 130 teams only play a dozen or so games. Complicating matters further is teams play in conferences of wildly different quality: Alabama and Georgia are part of one of the so-called Power Five conferences, while UCF is part of the lesser American Athletic Conference, effectively shutting them out of serious consideration for the four-team playoff.
Taken together, there's no guarantee every elite team will get to play one another and settle matters on the field, and it's only in the past 25 years of the game's nearly 150-year history that there's been any organized effort to ensure the top teams play at the end of the season.
Want to read more about UCF and college football weirdness? Check out our story on the 2014 Bitcoin Bowl.
One attempt to do this was the BCS, which from 1998 to 2013 used a mix of human and computer rankings to determine the top two teams and place them in the title game. The current playoff is the work of a human committee, but those computer rankings are still out there, and one of them — the Colley Matrix, the creation of University of Alabama in Huntsville scientist Wes Colley — just put UCF ahead of Alabama, lending some actual legitimacy to UCF's claims to a share of the 2017 title. Seriously, it's on Wikipedia and everything, and UCF's argument isn't nearly as dubious as some elite school's retroactive claims for decades-old titles.
But why did the Colley Matrix break with the playoff committee, the human polls, and the other computer rankings in edging UCF ahead of Alabama? Colley tells Inverse that it all comes back to the original reason the various systems were needed, which is that college football can't just make the playoffs based on win-loss record like every other sport.
"You cannot do that in college football, because the quality of competition varies so wildly," he says. "So you have to adjust for strength of schedule somehow. And of course if we didn't adjust for strength of schedule, everyone would have UCF, because they have a better record than Alabama. UCF does not have a loss. Alabama does. Is the strength of schedule that Alabama has enough to offset that one loss? And so that's all we're talking about. And if that's the case, I say not quite. Almost, but not quite."
While every computer ranking — both those used in the old BCS formula and other independent analytics systems — strive for objectivity, there's no one definitive way to adjust for strength of schedule.
"It's in the details that people adjust for strength of schedule that accounts for the difference," says Colley. "I tend to just look at your average opponent. Others say this or that opponent matters more."
That might seem like it would favor the Crimson Tide, given they play in the vaunted Southeastern Conference, but in fact it was UCF that benefited from the overall stronger quality of its opponents.
"What is your record against the average team you played?" Colley says is the central question his ranking system tries to answer. "Mine dings you for bad opponents more than others do. Alabama for instance had a very weak FCS opponent that was hurting them in my system."
A relative up year for the AAC and a relative down year for the SEC also made it possible for UCF to close the gap on Alabama.
"Memphis is a very good team this year, and UCF played them twice," says Colley. "It's strange to contemplate the AAC having comparable quality to the SEC West. The AAC had a better year than usual."
It also doesn't hurt that UCF got to play and defeat Auburn in the Peach Bowl, as the Tigers are the only team to beat Alabama and split their two games against Georgia. That gives the Knights unusually high connectivity with Alabama's schedule, which in turn makes it easier for the computer to justify that UCF wouldn't just be competitive with Alabama, it might actually be a hair better.
"What my system is telling you right now is if you wanted to have the two most deserving teams playing in the national championship game, the top two teams would be UCF and Alabama," he says.
The Colley Matrix would have created a very different bracket than the real-life 2017 playoff, which saw top-seeded Clemson fall to Alabama and third-ranked Georgia beat the Oklahoma Sooners in the semifinals game. A Colley playoff would instead have had top-ranked Clemson play the Wisconsin Badgers and number two Georgia take on UCF, with Oklahoma left out in part because of the Big 12's generally unimpressive out-of-conference play.
In real life, the lack of an obvious choice among conference champions for the number four spot in the playoff let Alabama slip in even after losing to Auburn in the final game of the regular season, making an all-SEC title game against Georgia possible.
And that leads to a paradox, at least for Alabama fans annoyed about UCF claiming a share of the title.
"I realized Alabama in some sense was its own worst enemy in our system," says Colley. "Because by advancing to the playoff, that put two SEC teams in the playoff, and every SEC was playing up one notch in its bowl game. So instead of Alabama playing UCF, Auburn played UCF. Instead of Auburn playing Notre Dame, LSU played Notre Dame. The SEC lost five bowl games, and four of them were very close, less than one score. If Alabama hadn't pushed those teams into more difficult bowl games, that would have been enough. If the SEC had won those games, that strength of schedule difference would give Alabama enough to make them number one."
In reality, UCF never had a chance at the national title. The Knights debuted at 18th in the playoff committee's rankings and peaked at 12th heading into bowl season, with one-, two-, and even three-loss teams from power conferences ranked ahead of them. It's the fourth straight year the committee has severely underrated the best teams from the Group of Five conferences relative to other polls and ranking systems.
For Colley, that bias against the smaller schools is the perfect illustration of why the computers are so important in assessing the value of all 130 teams in this wild, ridiculous sport.
"It's just so hard for humans to keep track to go down and say how good is a Nevada versus a Michigan State," he says. "I think it's just human nature to gravitate toward what we know and what we can squeeze into our brain. Computer rankings give you that holistic view that's very difficult for a human mind to squeeze there. For me, virtually every week I'll be surprised by something in my rankings and then go, okay, Nevada beat BYU and that turns out to be an important win. If I didn't have a computer, I'd miss that, like everyone else."
There's just one last question that any self-respecting Alabama fan will need an answer to: Why is Wes Colley so biased against the Tide? While Inverse suggested there might be some rivalry between the Huntsville campus where he works and the flagship in Tuscaloosa, Colley points to something else.
"I think the correct analysis is that I'm a Georgia fan and I went to the game," he says. "I had four hours to sulk my way home from the game!"
That concession aside, Colley says the numbers are all out there, with his formula availably publicly for anyone to check out. Some years, he says, they have been kinder to Alabama than others. This year, his numbers gave UCF an extra layer of legitimacy in its attempt to claim football immortality.