This New App Uses Blockchain Technology to Verify Sexual Consent
Can it help reduce sexual assault?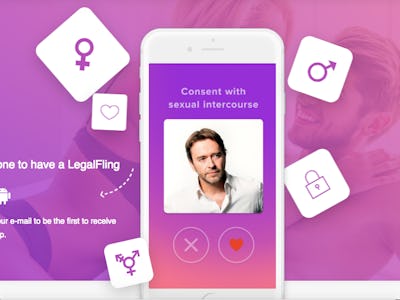 LegalFling
Blockchain: what can't it do?
Dutch startup LegalThings recently launched an open-source project, aptly called LegalFling, aimed at creating and verifying consent between two people before sexual activity.
The idea for LegalFling is based on the recent Swedish parliament's decision to enforce receiving explicit consent before having any sort of intercourse. However, LegalThings' Chief Operations Officer, Martijn Broersma, tells Inverse that "setting up a written contract isn't practical, that's why we came up with LegalFling."
The upcoming app, expected to launch this Spring, prompted dubious commentary from Twitter, of course.
"Of course we've thought about the negative aspects, but in the future this might be the most secure way to receive confirmation of consent," Broersma says, giving the growing of voice command technology as another way to create consent. For example, telling Alexa or Google Home to confirm verbal consent.
The project's branding, which uses the current anti-sexual assault movement's language, is meant to encourage the need for concrete, legal consent.
"With LegalFling we change the #metoo's into #iFling's," the site's homepage reads. However, Broersma insists the technology isn't simply trying to "replace #metoo." The use of blockchain is meant to ride the wave of the current #metoo and #timesupnow initiatives to help create change.
To do this, LegalFling will create what the team calls a "LiveContract."
"This is based on an open source blockchain protocol that can create any type of legally binding contract, which will be finished this april," Broersma explains.
Due to LegalFling's open-source nature, the app can be finished and launched by anyone willing to do so.
"Whether we will eventually develop the app, or someone else (that's the strength of our protocol)," Broersma continues, the company believes it will get done, especially given this past year's cultural events.
But why blockchain?
Unlike using non-secure app to establish consent, where there would be "no decentralization," the company says, wouldn't create be a verifiable way to recover this consent.
"There would be no storage of the data, only an agreement on the phones of the parties involved," Broersma says, which is open to manipulation of the app from anyone, including outside parties.
LiveThings is currently researching whether there's public interest in the app before going ahead with developing it.
And Broersma says they expected there to be. At the very least from Sweden, where the government has proposed the aforementioned consent law.