Tron Cryptocurrency Reveals "Chinese Netflix" Partnership, But Not So Fast
Game-changing move, or just more hype for an embattled cryptocurrency?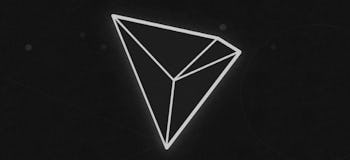 Tron Foundation
If nothing else, Tron knows how to keep the cryptocurrency world interesting. After a rough couple days for the once surging bitcoin alternative, Tron founder Justin Sun announced a partnership with Baofeng, a Chinese tech company worth billions of dollars.
"We #TRON are proud to announce the partnership with Baofeng group," Sun tweeted Wednesday. "Baofeng, aka Chinese Netflix, boasts more than 200 million users as a video portal giant and has achieved 8 billion [Chinese yuan] listing in Shenzhen stock exchange (300431.SZ)."
At first glance, this does sound like huge news, especially after a rough couple days for the cryptocurrency. Last week, Tron appeared to be the latest bitcoin alternative to skyrocket in value, joining the likes of Ripple and Stellar. But a general reversal in cryptocurrency prices and allegations that Tron's white paper had plagiarized other works have seen the TRX tokens fall to half their recent record price.
While this deal sounds good, there's reason to be skeptical of everything, except perhaps Justin Sun's skills as a hype man and promoter for Tron. Let's sort through this.
What is meant to set Tron apart from other cryptocurrencies is the idea of creating a blockchain-based digital content ecosystem. Before the TRX tokens exploded in value in recent weeks, the primary goal of Sun's Tron Foundation has been to give media creators a way to own and distribute their work without having to worry about intermediaries like Google Play or the Apple Store.
In that context, partnering with a company Sun describes as the Chinese Netflix sounds like a major step forward for Tron, offering some serious infrastructure help and a massive potential user base to help realize its blockchain vision.
But is that really an accurate way to describe Baofeng? As the cryptocurrency news site CCN points out, this may be what the article calls "creative marketing" on Sun's part. Reddit users suggest Baofeng is more known for creating a video player used elsewhere than being a streaming platform destination in its own right.
More importantly, the partnership isn't with the streaming portion of the Baofeng Group, which is the part that claims 200 million users. Instead, Tron is working with Baofeng BFC, which strictly makes hardware. That could still prove pivotal to Tron's efforts, but it would be misleading to say Tron has with this move gained access to the kind of user base and platform necessary to take its planned Blockchain Consensus Network into the mainstream in China.
Even in Tron's own announcement of the partnership, Baofeng BFC CEO Tianlong Cui sounds guarded in his support for what Tron is looking to do.
"After communicating with the TRON team, we find that TRON already enjoys a huge global community and market and that TRON is essentially a complex network composed of an integrated blockchain settlement system and a P2P data engine system that offers smart contracts large file services and that allows intelligent cache and deployment," he said in the statement. Here's where he really starts to sound skeptical: "As a large-scale P2P network operator, we know how difficult this network is and how great the technical challenges are. We look forward to the TRON team overcoming the difficulties and launching the network."
The CCN story also points out Baofeng BFC has formed similar partnerships with other small altcoins, none of which attracted the same kind of fanfare this move has, in part because none of them have a founder with the promotional instincts of Sun.
What exactly is going on with Tron remains mysterious, though it's probably fair to say at this point that the salesmanship of its founder is one of the company's best assets. The question that remains to be answered is just what other assets Tron really has to offer.