Where Was Tim Robbins This Whole Time?
He went away for a while and starred in some bad movies. Is his arrival on HBO a comeback or just another thing?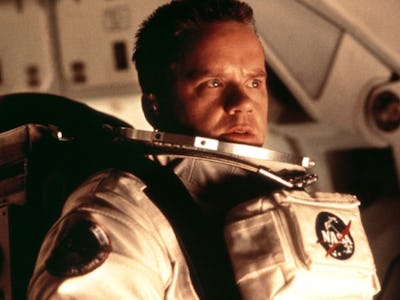 Tim Robbins never looked like a movie star. Even in his Bull Durham heyday, before his neck thickened and his lips thinned, he looked more like a handy neighbor than an ascendant star. The dude built his career on acting, which is a very cool thing to do and why his IMDB is so multifarious. Before appearing in The Brink last night, the man who broke free of Shawshank spent years wandering the pop culture desert. He's back and it seems like he never left, but what does of a decade of shrug say about Tim Robbins-ness?
There was no clear moment when Tim Robbins gave up on being a movie star, but his decision to play a twitchy farmer fighting aliens in War of the Worlds. Robbins is very much not the star of that movie. He's so distinctly not a protagonist that he actually winds up fighting Cruise. The fact that he (the real Tim Robbins) was ready to accept that fate and play the psycho after earning heaps of critical praise for his measured performance in Mystic River says everything. For Robbins, a bad case of casting whiplash presumably was worth it to work with Spielberg and to team up with Cruise, who he'd met on Top Gun.
The role established a clear pattern: Tim Robbins taking bit roles to work with friends or on fun popcorn movies. Embracing the weirdness he'd brought to his role as a hippie sex monster alongside his old softball teammate John Cusack in High Fidelity, Robbins started more or less fucking around with his friends. He took on his troupes performance of Embedded Live, Jon Favreau's Zathura: A Space Adventure, and Jack Black's Tenacious D in The Pick of Destiny. Robbins knew all of these people from The Actors Gang, a group he'd formed in 1981. These are people he'd worked with for free.
When Robbins did take movies with non-friends, his choices were both questionable and understandable. He was in The Green Lantern, City of Ember, and Yi Jiu Si Er (Back to 1942), three box office failures with one thing in common: They seem like they'd be a blast to film. Put a different way, Robbins got to hang out in New Orleans, chill with Bill Murray, and try to learn Chinese. Good work if you can get it. Better work if you can get paid for it.
The other projects Robbins has wandered through have trended toward the goofy (Anchorman, The Spoils of Babylon) or the left-leaning (The Lucky Ones, Noise). Robbins has a reputation as a political activist for a reason. That reason, incidentally, is that he used to be married to Susan Sarandon and says real stuff from time to time. He's not really much of a rabble rouser, but he clearly believes what he believes very strongly and is happy to use his craft to further his points.
All in all, this IMDB page paints a picture of a guy who could give two shits about his personal brand and generally does what he wants to do. This makes Robbins, who seems to be photographed riding around on his bike quite a lot, a pretty likable figure. People react positively to un-calculated behavior and it seems like Robbins chose living the life he wanted over cultivating his career. So the answer to the question posed by this piece turns out to be: To do some shit he wanted to do. It's a more tautological answer than you'd likely get if you posed a similar question about a different actor and it also undermines the basic premise of the query.
Tim Robbins isn't really back. The dude just decided to be on HBO for a while, presumably to have fun with his buddy Jack Black and try to make something goofy and memorable. He's the guy you invite to a party assuming that he won't come. When he shows up, it's gravy.