Wait, Was 'The Room' Directed by Tommy Wiseau? The Truth Is Muddy
The script supervisor says he actually did pretty much all the directing.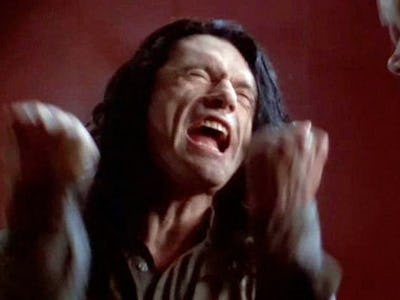 Tommy Wiseau wrote, produced, starred in, and directed The Room, arguably one of the worst movies ever made. But, did Wiseau actually direct the film, which is finally enjoying a wide release in cinemas coming off of the success of the movie about the movie, The Disaster Artist? Sandy Schklair, the script supervisor who was played by Seth Rogen in The Disaster Artist, claims that he actually directed most of the movie, contrary to what Wiseau has everyone believing.
The Hollywood Reporter writes that Schklair is releasing a book detailing his account of the making of the 2003 cult classic, appropriately titled Yes, I Directed The Room. The Amazon release is supposed to come out on January 12, but Schklair has been insisting he was the one doing the real directing for years now.
"I directed this entire movie, except for the love scenes and the second unit stuff in San Francisco," Schklair told THR ahead of the tell-all book's release. Schklair, who is officially credited as "AD/Script Supervisor/Whatever," says he stepped into the directing role because Wiseau "had no idea what the directing process was, no idea how you shoot."
Indeed, in the book co-star Greg Sestero wrote about the making of the movie (which was later adapted into The Disaster Artist), he credits Schklair with being the "only reason we'd gotten anything remotely watchable on film."
Schklair goes even further, though, saying that Wiseau never really got behind the camera himself, and that he often didn't even show up on set if he wasn't in whatever scene he was supposedly filming that day. He also says that he intentionally tried to make The Room a comedy, and that he's responsible for fan-favorite details like the paintings of spoons and intentional continuity flaws.
"The idea was to keep the insanity, but push it as far over the top as I can and preserve the fact that everybody there knows I'm making a comedy … except one person," he told THR.
Schklair quit the movie over the way Wiseau wanted to shoot the sex scenes, stating he wouldn't direct pornography. Wiseau says Schklair's claims that he directed the film are therefore especially bogus, and that he wasn't even working on the film for some of the most iconic parts.
The truth is probably somewhere in the middle, in that Wiseau in no way had the skills to actually direct a movie, but even with Schklair's directing know-how, it's only because of Wiseau that The Room is, well, The Room.