Why JPMorgan CEO Jamie Dimon Regrets Calling Bitcoin a Fraud
But he's "done" talking about it ... for now.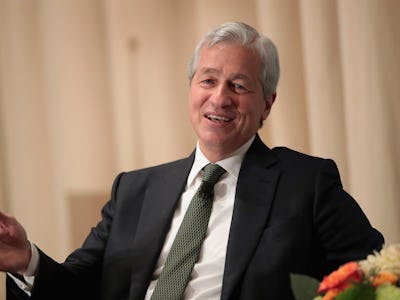 Getty Images / Scott Olson
Wall Street is backpedaling on its bitcoin hate.
After criticizing the powerhouse cryptocurrency last year, JPMorgan CEO Jamie Dimon said Tuesday he regrets his earlier comments that bitcoin is a fraud.
But that was about as far as Dimon would go, saying he's not actually "interested" in talking about the topic. Basically, he's just not that into crypto.
"The bitcoin to me was always what the governments are gonna feel about bitcoin as it gets really big, and I just have a different opinion than other people," he told Fox Business Tuesday. "I'm not interested that much in the subject at all."
That's at most a tepid non-endorsement, but it's still a shift from his take back in September at the Delivering Alpha Conference, where he suggested bitcoin was nothing more than a bubble.
"It's worse than tulip bulbs," Dimon said, comparing it to the infamous 17th century case of tulips in Holland reaching astronomical prices before suddenly collapsing. "It won't end well. Someone is going to get killed."
At the time, Dimon noted his daughter had bought some bitcoin. While he stopped short of suggesting investors short-sell bitcoin in advance of a collapse, he still doubted her investing acumen.
"I'm not saying 'go short bitcoin and sell $100,000 of bitcoin before it goes down," he said. "This is not advice of what to do. My daughter bought bitcoin, it went up and now she thinks she's a genius."
Dimon also said in September he'd "fire in a second" any JPMorgan trader who was trading bitcoin, noting two reasons: "It's against our rules and they are stupid."
Bitcoin fell after those original comments, signaling how much effect Wall Street's commentary can have on cryptocurrencies' markets.
On Tuesday, Dimon did have some kind words for the blockchain, by acknowledging the underlying technology is "real." It's just the specific cryptocurrencies that he still views skeptically, bitcoin first among equals.
"You can have crypto yen and dollars and stuff like that," he added. "ICO's you have to look at individually."
Dimon's shift comes at a time when Wall Street seems divided over investments in crypto markets. While Citigroup CFO John Gerspach has agreed by also warning against buying bitcoin, there is an anticipation in explosive crypto buying from Wall Street employees this month.
This isn't the first time Dimon has promised to stop talking about bitcoin. Just a month after his original criticism, the CEO said he was "done" bringing it up. Just a month later, though, he warned buyers will "pay the price" by stupidly buying tokens.