'Deadpool' Director Is Developing a Kitty Pryde Standalone Movie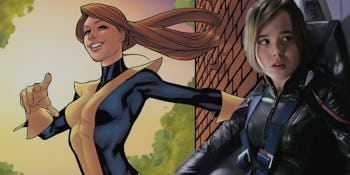 Marvel/Fox
Disney's recent acquisition of Fox has thrown the future of the X-Men movies into some doubt, but nevertheless, the studio is reportedly developing a solo movie about one of the most beloved X-Men this side of Wolverine. Kitty Pryde, a.k.a. the phasing mutant Shadowcat, might be getting her own movie.
Collider broke the news on Tuesday, writing that sources confirmed Deadpool director Tim Miller is developing a Kitty Pryde movie. The character, whose mutant ability allows her to phase through solid objects, first appeared in 1980, and would later go on to be one of the more enduring members of the X-Men, eventually serving as the team's leader. She also had a pet alien-dragon named Lockheed, and briefly tooled around space with the Guardians of the Galaxy.
Shadowcat has appeared in X-Men movies before. In the first two X-Men, she was just an Easter egg, but Ellen Page played her in The Last Stand and Days of Future Past. It's unclear if Page would play the character again.
More importantly, it's unclear if this movie will actually happen. For now, it looks like the X-Men movies will continue on without intersecting with the Marvel Cinematic Universe, though that could change. Even so, studios say they're developing lots of movies all of the time, and they don't all come to fruition. Miller, who may or may not direct this movie, is already working on a Sonic the Hedgehog flick and a Terminator.
If Fox makes a Shadowcat movie, Collider notes that it will be the studio's first solo superhero movie with a female lead since 2005's Elektra. Good on Fox for making a female-led superhero movie way back in 2005, I guess, but bad on them for making such a bad movie. A Kitty Pryde movie, if it does happen, would almost certainly be better.