The 5 Biggest Ways Nvidia Redefined Future of Self-Driving Cars at CES 2018
The autonomous future is sooner than you think.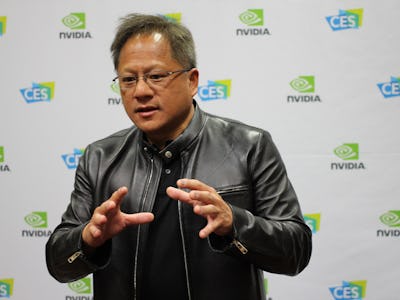 Flickr / pestoverde
If Sunday night's keynote address from Nvidia CEO Jensen Huang is any indication, self-driving cars will define CES 2018. Scratch that: They figure to define 2018 in general, as Huang made several bombshell announcements on how Nvidia plans to redefine what it means to be on the road.
The lengthy presentation ran about two hours, but that's understandable given just how much Huang had to share. This included both technology Nvidia hopes to debut as soon as later this year and partnerships the company will form to make autonomous driving accessible to everyone.
Let's run down the biggest reveals.
Nvidia revealed the world's first autonomous machine processor
A big theme of the presentation is that any autonomous car must have a computer not just powerful enough to handle the task of successful navigation but also reliable enough to avoid the risk of catastrophic failure.
"This computer is on all the time, monitoring all the sensors that is coming at it," said Huang. "It can never fail, because lives are at stake. It has to make the right decision, using software the world has never known how to write."
To that end, he revealed the DRIVE Xavier, the end result of $2 billion and four years' worth of research. It's the first processor unit specifically designed for autonomous machines.
The big key is how energy-efficient it is: It can handle 30 trillion calculations per second on just 30 watts. That's the kind of power consumption that makes it feasible for self-driving cars to attain the complexity necessary to recover from any momentary glitches or failures without imperiling passengers.
The first samples of these chips are expected to be delivered in the first quarter of 2018.
AI and augmented reality are part of the new self-driving architecture
Huang also revealed that the company isn't just using neural networks to power the self-driving future. Two new platforms will incorporate artificial intelligence and augmented reality capabilities to further enhance cars' abilities to think for themselves.
"Your car in the future should essentially become an A.I.," he said. "You need the A.I. to be in the car because it's not possible for the cloud to understand the context around you."
As for augmented reality, Huang predicted that it will be strange and remarkable in five years if any car doesn't come with AR interfaces to provide real-time information and alerts.
Nvidia has a plan for China
The first partnerships Huang revealed were with the Chinese tech companies Baidu and XF. This collaboration will ensure that self-driving cars developed in China will work along the same lines as their Western counterparts.
"Every single car made has to be China-compatible," said Huang, pointing out the country is the single largest market for autonomous vehicles in the world. "We created an open platform that makes it possible to develop the driving stack for the West, and to partner with Baidu to develop for China."
Get ready for self-driving Ubers
Uber has been actively working on self-driving technology since 2015, with trials held in Pittsburgh in 2016 and Phoenix in 2017. While Uber's self-driving cars have already logged more than two million miles, the goal of this newly announced partnership with Nvidia is to make it possible for the service to handle the massive computational requirements of a self-driving fleet.
Part of the long-term goal, according to Huang, is to make the cost of mobility for regular use of an autonomous driving service to be less expensive than owning a car.
Nvidia is teaming up with Volkswagen to put an A.I. spin on a classic car
Volkswagen CEO Herbert Diess joined Huang onstage for the final portion of the keynote. One of the largest car manufacturers in the world, Volkswagen will partner with Nvidia to bring A.I. and deep learning to the I.D. Buzz, the electric car update of the iconic 1960s-era VW MicroBus.
"Autonomous driving, zero-emission mobility and digital networking are virtually impossible without advances in AI and deep learning," said Diess in explaining why the two companies will work together on the car. "Combining the imagination of Volkswagen with NVIDIA, the leader in AI technology, enables us to take a big step into the future."
This particular car is essential to Volkswagen's shift both to electric and to self-driving cars. The company hopes to introduce self-driving vehicles by 2020 and have a larger fleet of electric vehicles by 2025.
In the meantime, Huang's address set the tone for how Nvidia hopes to make that future happen, likely also foreshadowing further hints from CES 2018 on the self-driving future.
"A.I. will define the future of all of your cars," said Huang as he closed his preview.
If you liked this article, check out this video about spherical tires for self-driving cars.