Deadpool Invites Profoundly Stoned Wisdom Tooth Patient to Sequel Premiere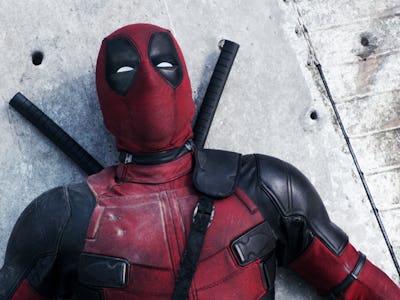 Deadpool is, famously, the Merc With a Mouth, so it only makes sense that he'd be willing to go above and beyond for a fan who was having some mouth-related issues. Actor Ryan Reynolds extended an invite to the Deadpool 2 premiere to a fan from a viral video who worried he was going to miss the movie while high out of his mind on painkillers on the way back from wisdom teeth surgery.
On Wednesday, Twitter user James Eversole Jr. postd a video that his wife had taken after he'd gotten four wisdom teeth taken out. What ensued was an R-rated "David After Dentist." As his wife promised ice cream, Eversole mumbled about "banging" and then worried that he was going to miss Deadpool. When his wife reminded him that he'd seen the movie a bunch of times, he explained, poorly, that he meant the sequel… which comes out in six months.
Eversole tagged a bunch of people involved with Deadpool, including Reynolds, writer Rhett Reese, director David Leitch, Deadpool's creator Rob Liefeld, and, uh, Chris Evans. Reynolds responded.
"Years ago, I had my wisdom-testicles removed," Reynolds wrote, which is upsetting. "I know how painful it can be. Consider this your official invite to the Untitled Deadpool Sequel, James. I'll see you and a guest in May."
For what it's worth, if Reynolds was in-character when he tweeted his response, getting his "wisdom-testicles" removed isn't a big deal for Deadpool. While speaking to Inverse last spring, the Merc With a Mouth's creator, Rob Liefeld, confirmed that Deadpool can regrow his testicles.
"We would never, ever live in a world where Deadpool can't regenerate his own cock and balls," Liefeld explained. Presumably, this means he would also regrow his wisdom teeth, but that's not as interesting (or vile) a topic of conversation.
Untitled Deadpool Sequel, if that's what it's actually going to be called, comes out on June 1.