New George R.R. Martin Series 'Nightflyers' Is Nothing Like 'Game of Thrones'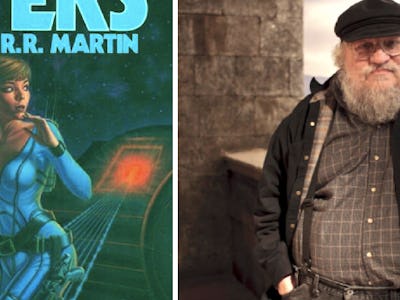 He's world famous for creating A Song of Ice and Fire, the novel series which spawned HBO's Game of Thrones. But, don't expect the next big George R.R. Martin adaptation to be anything like the world of Westeros. Nightflyers actually might be the opposite of Thrones in both tone and scope. In fact, if anything, the premise of the book is closer to Ridley Scott's Alien-prequel, Prometheus.
On Thursday, the SyFy channel announced a series order for Nightflyers, a new show based on the Martin novella of the same name. In the book, a group of xenobiologists and other science types are flying in spaceship trying to catch a glimpse of an eternal alien intelligence called "the volcryn," which seems to have religious and spiritual overtones. However, like the holy space pilgrimage of Prometheus, this journey doesn't end up being one of enlightenment, but instead, results in a bloodbath. And while tons of violence sounds just about right for those who know and love Martin's work, the size of the Nightflyers story is smaller than Game of Thrones. This is a cramped spaceship-centric horror story, with more in common with the entire Alien franchise than any epic fantasy.
All of this could make for an awesome TV series. According to SyFy, the show "follows eight maverick scientists and a powerful telepath who embark on an expedition to the edge of our solar system aboard The Nightflyer - a ship with a small tightknit crew and a reclusive captain — in the hope of making contact with alien life. But when terrifying and violent events begin to take place they start to question each other — and surviving the journey proves harder than anyone thought." The show is written by Jeff Buhler who is also the executive produce alongside Daniel Cerone, the showrunner. George R.R. Martin will also be an executive producer.
Nightflyers starts production in Ireland this year. No release date has been confirmed by SyFy. When completed, the show will air on SyFy in the US and on Netflix globally.