Syfy Announces 'Krypton,' George R.R. Martin Adaptation, and More 
The network has big plans for the future.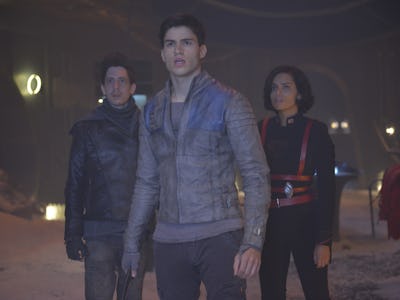 Syfy / NBC Universal
Superman's grandfather will run around on the planet Krypton while George R. R. Martin, Dan Simmons, and the ghost of Robert A. Heinlein will gleefully watch new TV shows based on their famous books. It may sound like a weird sci-fi/fantasy dream rave, but it's actually just the new programming line-up for the Syfy channel.
On Thursday, the Syfy channel announced an "all new look and feel" for the network. Because 2017 is Syfy's 25th anniversary, NBC Universal Cable Entertainment's President Chris McCumber told press on Tuesday that he felt that the network was ready to "embrace this genre and get back to our roots." This might be a vague allusion to the bygone days when a network supposedly about science fiction was often airing professional wrestling matches.
And so, in addition to a new logo, "embracing the genre," the Syfy channel is doubling-down on their original programming. Following the critical acclaim of both The Expanse and The Magicians series, the network is aimed to continue the savvy route of creating new programming by adapting extremely popular books in genre fiction. They may not have Game of Thrones, but one new Syfy project is based on a George R. R. Martin's novella called "Nightflyers," a horror story set in space, which was previously adapted as a 1987 film of the same name. Presumably, the new Nightflyers will be nothing like the old movie. Syfy says the show, which doesn't list Martin as a producer or writer, will follow the exploits of a space crew as they hunt after an alien ship with an A.I. that may be leading them to their doom.
Syfy also confirmed several other projects, including the Superman prequel series Krypton, all about Seyg-El, Kal-El's grandfather. Footage from the show leaked earlier this year, but now Syfy has confirmed that it will be airing a full season of Grandpa Superman's adventures around a red sun.
Perhaps the most surprising announcement was an adaptation of Grant Morrison and Darick Robertson's graphic novel Happy!
In addition, adaptations of Dan Simmon's popular Hyperion novel was announced, alongside classic adaptations of the novels Brave New World by Aldous Huxley and Stranger in a Strange Land by Robert A. Heinlein. The Expanse and The Magicians are each returning for a third season, topped off by the TV network airing of Fantastic Beasts and Where to Find Them. Krypton is set for debut in late 2017, with other new programming eyed for early 2018.
With a mix of the past and the future, the Syfy channel seems to be showing confidence in giving fans what they want, by thinking outside of the box — or the spaceship — too.
The next major Syfy release is the third season of 12 Monkeys, starting on May 19.