The Workaholics' Netflix Action-Comedy Trailer Is Stupid-Hilarious
"You SWAT? You SEALS? Transporters?"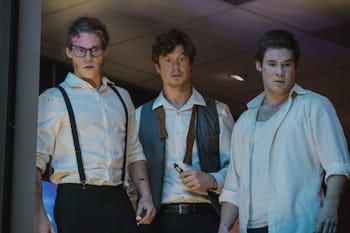 Netflix
The first trailer for Netflix's upcoming collaboration with the Workaholics gang premiered on Thursday, giving fans a first look into the wonderfully weird action-comedy that is Game Over, Man!.
Starring Adam Devine, Anders Holm, and Blake Anderson, Game Over, Man! follows three best friends and video game developers, Alexx (Devine), Darren (Holm), and Joel (Anderson), whose project benefactor gets held up in a hostage situation. Hapless and overly enthusiastic about their abilities to be competent people and action heroes, the trio takes it upon themselves to free their benefactor. It all goes horribly wrong, of course, but they seem to pull through, battered and bloody and screaming the whole way through.
The trailer focuses heavily on the appearance of "international pop star" Shaggy and his hit single "It Wasn't Me," which the bad guys force him to sing for a hostage video with a gun to his head.
"You SWAT? You SEALS? Transporters?" one of the bad guys demands of the trio as they storm the hotel with guns and disguised as waiters.
Netflix is advertising Game Over, Man! as Workaholics meets Die Hard, referencing perhaps one of the most iconic and action-packed action movies of all time. Whether or not Game Over, Man! will live up to that kind of legacy is debatable. What's not debatable is how undeniably hilarious this movie will be.
Anderson, Devine, and Holm wrapped up the seventh and final season of their hit comedy series Workaholics in 2017, in which they played three college dropouts and roommates who work at a telemarketing firm and generally get into a lot of trouble. Game Over, Man! seems to be harnessing the same ridiculous energy as Workaholics as the stars look to throw their energy elsewhere. And as much as so many fans didn't want Workaholics to end, at least Game Over, Man! will carry on the tradition.
Game Over, Man! premieres on Netflix on March 23.