What Are the Odds of Winning the Mega Millions Jackpot?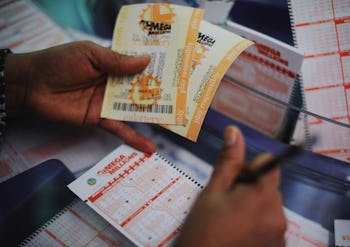 Getty Images
The Mega Millions climbed to a $418 million jackpot on Tuesday after nobody came forward with a ticket that matched all six numbers in the grand prize draw. The prize is now the fourth largest in history, with the next draw scheduled for Friday.
It sounds like it's worth a shot, but actually winning the prize is a whole other ball game. Official figures place the chances of winning the jackpot at a staggering 303 million to one. If you're looking to win Wednesday's Powerball at the same time, with a $440 million payout, you're looking at odds of 88 quadrillion to one
Even if you focus your efforts on the Mega Millions, you have a far better chance of any one of the following:
The odds used to be better. Before October 2017, players had to match five white balls from one to 75 and one red ball from one to 15. In this setup, the game had odds of 259 million to one. A series of changes that included the removal of five white balls and the addition of 10 red balls made the chances of winning the jackpot significantly worse.
If you do happen to win, you have a choice. You can have the whole thing as a lump sum, or you can choose to receive 30 payments over 29 years. If you pick the cash payout, you'll receive an estimated $278 million before taxes are factored in.
All this pales in comparison to the largest Mega Millions draw in history. That accolade belongs to the $656 million draw from March 2012, which was shared between three winners in different U.S. states.