Amazon Digital Day is Here: What to Know for Today's Deal-Grabbing
Load up your Kindle today.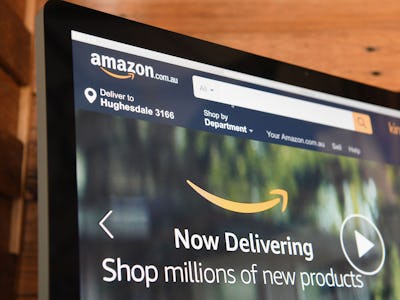 Getty Images / Quinn Rooney
The second annual Amazon Digital Day has arrived.
If you were gifted Amazon devices for the holidays, now is your chance to load them up on the cheap. Deals include 60 percent off Wonder Woman, 50 percent off Spider-Man: Homecoming, 50 percent off Civilization VI, and a ton more for ebooks, software, and everything else digital.
Amazon is having a major sale, similar to its famed Prime Day, offering deals on many of its downloadable products. The shopping day promises to provide the biggest savings of the year on digital content across all of Amazon.
As part of Digital Day, Amazon tells Inverse that customers can save up to 75 percent on Kindle's best-selling books, including eBook titles such as The Girl Who Takes an Eye for an Eye, The Silent Corner and Aziz Ansari's Modern Romance, among others.
After its successful inaugural Digital Day last year, Amazon decided to bring it back for some post-Christmas, pre-New Year's Day cyber shopping.
The company says it will be offering savings on more than 5,000 items. These will include titles of movies, TV shows, games, apps, and eBooks. You can get a sense of what you'll be able to snag online at amazon.com/digitalday. Think of it as the downloads version of Amazon's famed annual Prime Day.
Amazon is urging its customers to sign up for email notifications and follow the #DigitalDay hashtag for real time updates on which deals begin when. Sales began to drop as soon as December 26, all the way into December 29, when the clock strikes midnight — 12 a.m. Eastern, to be precise.
Another way to shop Digital Day is through the Amazon App and the Amazon Appstore, which you can download for iOS and Android.
Amazon says that last year's Digital Day, which also took place at the end of December, saw customers order hundreds of thousands of items with "record-breaking sales."
Some of this year's Digital Day snags will include 60 percent off Wonder Woman on Amazon Video and discounts on Marvel graphic novels, including Star Wars.
Here are some more of the top deals being offered, per Amazon:
$10 Amazon.com credit when you subscribe to HBO NOW on Amazon
25 percent off $49.99 Lapis bundle for Final Fantasy Brave Exvius
Up to 75 percent off ROBLOX New Year's Eve themed wearables
Three free audiobooks when you sign up for an Audible trial
25 percent or more off PC software like Rosetta Stone and Adobe Creative Cloud Photography
First three months free in Daily Burn streaming workouts