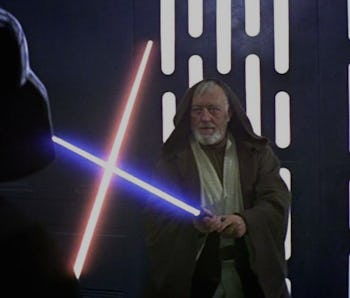 Entertainment
'Star Wars' Fan Video Epically Reimagines Obi-Wan and Darth Vader's Duel
Lucasfilm
Obi-Wan Kenobi and Darth Vader canonically lost a lot of their fighting finesse between the prequel trilogy and the original Star Wars trilogy. Whereas Obi-Wan acrobatted his way through the prequels and took on the Sith more than once in the past, his skills fell flat against Vader in Star Wars: A New Hope. A group of visual effects-savvy Star Wars fans are looking to set things right.
"Scene 38 ReImagined," was uploaded to YouTube on Friday by user FXitinPost. The self-termed teaser trailer is a taste of the full scene that will supposedly be uploaded sometime in 2018, which totally reimagines the final confrontation between Obi-Wan and Vader as a more skilled, less "kids play-fighting" scene.
The 46-second teaser spends most of its time setting the scene, with Vader's scuba mask breath signaling his entry into the ring. Obi-Wan levels his lightsaber similarly to how he actually held it in A New Hope to face off against Vader — then shit goes down.
The two throw themselves into battle, Obi-Wan immediately on the defense as Vader's superior strength and rage seem to win almost immediately. Sparks fly as the lightsabers bite through the durasteel of the Death Star hallway. Even the teaser of this battle is more exciting than the original New Hope battle.
Lightsaber fights in the original Star Wars trilogy were modeled after basic fencing techniques. Things got a bit more complicated once creator George Lucas brought the Jedi back in time to the peak of their power, working with specialists to create an individualistic style of fighting that combines various forms of martial arts and sword combat from around the world.
While this teaser doesn't make the fight seem like it's going to get too complicated — in comparison to say, Obi-Wan and Qui-Gon Jinn's fight with Darth Maul or Obi-Wan's first battle with Anakin Skywalker — it's definitely finding a balance between fencing and more complicated swordplay. And, uh, the ending isn't too much of a mystery, is it?