Edward Snowden Introduces a New Spy-Catching App, and Here's How It Works
The cybersecurity activist is now a tech founder.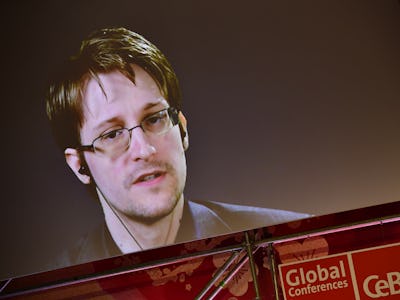 Getty Images / Alexander Koerner
From whistleblower to app developer, Edward Snowden is now a tech founder.
In a YouTube video posted by the Freedom of the Press Foundation's account, Snowden introduced his new app Haven. The open-source project is a collaboration between the FPF and The Guardian Project. Snowden said he led the FPF side of the joint effort.
The former National Security Agency contractor, who has taken refuge in Russia since exposing the U.S. government's surveillance programs by disclosing classified material back in 2013, has made it his mission to fight for cyber privacy. He serves as the board president of the FPF. The group was founded by fellow whistleblower Daniel Ellsburg, who in 1971 leaked key secrets about the U.S. government's involvement in Vietnam with the Pentagon Papers.
This week's launch represents one of Snowden's most concrete efforts yet to accomplish his goal of helping those who need it most become more secure, as the app is designed to protect the data of investigative journalists and humanitarian workers who may find themselves in the crosshairs of government spies.
According to the announcement, "Haven is for people who need a way to protect their personal spaces and possessions without compromising their own privacy." Haven is aimed to catch intruders spying on personal data.
The Android-specific app uses "on-device sensors" to monitor and protect physical spaces like homes or offices. For example, if someone breaks into a room with an Android running the Haven app, a photo will be taken of the intruder and sent to alert the app's user.
The way it works is by combining the smartphone's sensors with secure communication apps like Signal and Tor. This is how Haven "prevents the worst kind of people from silencing citizens without getting caught in the act."
"We designed Haven for investigative journalists, human rights defenders, and people at risk of forced disappearance to create a new kind of herd immunity," the Freedom of the Press Foundation says in the post.
In the video announcement, the Russia-based Snowden explains Haven is a tool aimed at activists and others at security risk.
So far, Haven has received mixed reactions on social media reactions, with some questioning its security or potential ulterior motives given Snowden's past. Others find the idea of Haven to be useful, but aren't sure of the logistics regarding physical privacy.
The app is currently available on Android, with plans to expand to other platforms depending on volunteer contributions to its open source.