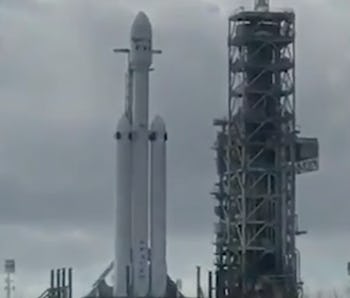 Innovation
Something's Seriously Weird About This New Video of SpaceX's Falcon Heavy
Everyone's very excited to watch Elon Musk ship a perfectly good Tesla Roadster into space, on board SpaceX's highly anticipated launch vehicle, the Falcon Heavy. The weird thing is, a video of it just uploaded by the Kennedy Space Center's Visitor Complex (KSC) seems to have been swiftly yanked from the internet.
On Tuesday at 10:54 a.m. Eastern, the KSC Visitor Complex's official account tweeted a short video of the Falcon Heavy at Cape Canaveral. We were able to salvage a screenshot of it, which has thankfully been saved in one of Inverse's Slack channels.
You can watch the original video of the Falcon Heavy in the upright position below. Thankfully, we saved that too.
There doesn't appear to be anything controversial about the video. And people have already been posting pictures online of various components to the Falcon Heavy, so it's hardly a secret operation. But if you try to click on that tweet's link, you'll get this error page:
When Inverse reached out to NASA's Communication Office at the Kennedy Space Center, we were told to "direct message the Kennedy Space Center Visitor Complex @ExploreSpaceKSC" on Twitter.
Low-stakes internet mystery aside, here's what we do know about the Falcon Heavy, besides its launch date, which we still don't know. The rocket's maiden launch will be about six years in the making, and quite a shift from its original launch date, which was 2013. Its first stage is made up of three Falcon 9 engine cores and 27 Merlin engines, which can generate more than 5 million pounds of thrust upon launch. Not too shabby.
After much speculation over whether or not Elon Musk was just trolling, it seems the payload will indeed be his red Tesla Roadster playing David Bowie's "Space Oddity."
While there are still so many mysteries out there about the Falcon Heavy, hopefully, someone will sort out this completely insignificant Twitter drama soon.
Update 12/28, 4:24 p.m. Eastern: The Kennedy Space Center Visitor Complex has responded to Inverse's Twitter DM with the following:
"The video was posted in error. We'll share images and information as SpaceX announces them."
The KSC Visitor Complex did not elaborate when Inverse asked about whether or not SpaceX had asked them to take down the video.