How Trump Created and Won His Own War on Christmas in 72 Days
We can all rest easy now!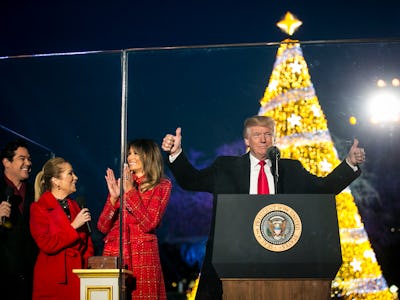 Getty Images / Pool
At this point in American history, military historians are all too familiar with the War on Christmas. Thankfully, on Sunday, President Trump announced the end to the 72-day struggle which, unsurprisingly, he helped create.
In October, Trump spoke at the Family Research Council's Values Voter Summit in Washington, D.C. and vowed to renew the Christmas spirit that literally was never under attack in the first place.
"We're getting near that beautiful Christmas season that people don't talk about anymore," he said. "They don't use the word Christmas because it's not politically correct. You go to department stores and they'll say 'Happy New Year,' or they'll say other things and it'll be red, they'll have it painted."
Of course, Trump wasn't the first person to bring up the "War on Christmas." Back in 2012, Bill O'Reilly claimed that liberals were "tying the Christmas situation into secular progressive politics" as part of their grand plan to create "a new America," where a "traditional Christmas isn't a part of it." The former Fox News talking head repeatedly criticized President Obama for saying "Happy Holidays," though several tweets suggest this was a lie. Evidence doesn't bring in the ratings!
While Bill O'Reilly might have been the first one to plant the seed, one could argue Trump has been the War on Christmas's most dedicated soldier. Earlier this month, he renewed his commitment to winning the fight against Starbucks and the Fake News Media and reinstating Christmas spirit.
"Remember I said we're bringing Christmas back?" he said. "Christmas is back, bigger and better than ever before. We're bringing Christmas back."
After many long battles, it seems Trump has finally come out victorious in the war he first created — at least that's what he's saying on Twitter.
Of course, several Twitter users pointed out some minor flaws in Trump's announcement:
Well, there you have it. The War that never was has finally ended, and we can all rest easy now.