SpaceX's Spectacular Launch Leaves Los Angeles Thinking UFOs Have Arrived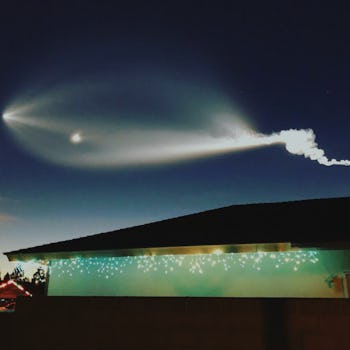 Flickr / AioInstagram
For its 18th and final launch of 2017, SpaceX managed to go out with a bang — though, fortunately for Elon Musk and company, this bang was of the strictly figurative variety.
The Friday evening mission itself was routine enough, as for the third time this year the Falcon 9 rocket carried a batch of telecommunications satellites that will eventually make up the Iridium satellite constellation. But the timing of the launch from Vandenberg Air Force base in southern California created a spectacular light show for those on the ground, albeit one that caught unaware many residents of everywhere from Los Angeles to Phoenix.
The Falcon 9 blasted off at about 5:30 p.m. Pacific time, 40 or so minutes after sunset. The successful mission ended with the rocket booster landing in the ocean instead of one of SpaceX's droneships. This was the second flight for this particular rocket stage, as it had previously been used on an early launch of Iridium satellites. This is the first time SpaceX has used the same rocket twice for the same company's payload.
The launch's twilight conditions proved perfect for illuminating the particles of the rocket's exhaust, making visible a launch that most other times of day would happen without anyone on the ground realizing. Not so here, as many Los Angelenos, including no less than pop star Demi Lovato, took to social media to wonder whether their city was dealing with its first major UFO incident since whatever happened back in 1942.
Elon Musk himself addressed these questions with all the care, nuance, and restraint appropriate to the situation.
And at least one person had a more seasonally appropriate theory.
This wraps up Space X's launch schedule for 2017, though there's already plenty on the 2018 docket. January alone has three Falcon 9 launches planned, along with the long-awaited first mission for the Falcon Heavy, which will launch Musk's red Tesla Roadster on a one-way trip to orbit around Mars. In fact, Musk used last night's light show as a golden opportunity to remind everyone about that next big event.
No word yet on when exactly the Falcon Heavy is set to launch from the pad in Florida's Kennedy Space Center, but maybe wise to give the people of Orlando and Miami a heads-up if the plan is another evening takeoff.