This Raspberry Pi Kit Lets You Make Your Own Racing Robot
Dip your toes into robotics with this kit.
by Inverse Loot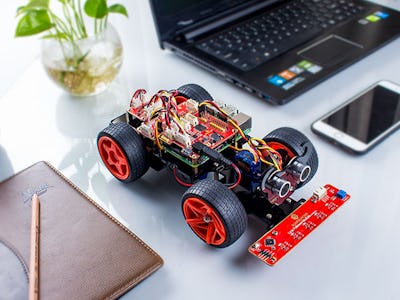 Raspberry Pi
The Raspberry Pi is a fascinating tool. Who would've thought that a credit card-sized piece of machinery has the ability to create a multitude of projects? With the right hardware and codes, you can build useful items like home surveillance systems and water coolers, and fascinating things like gaming consoles and race cars! The possibilities are endless.
The SunFounder PiCar-S Raspberry Pi supplies a complete arsenal of tools to create your own four-wheeler. Whether you're a total robotics newbie or just want something new to tinker with, this PiCar-S set is a fun and engaging way to learn robotics. Even if mechanical automobiles aren't your thing, you can still use the Raspberry Pi 3 to make countless of other IoT projects.
The comprehensive kit contains everything you need for building a car, including wheels, motor drivers, and assorted screws and nuts. It's equipped with three sensor modules: ultrasonic obstacle avoidance, light follower, and line follower — all necessary to teach the car how to dodge barriers, chase light, and follow tracks. It also includes pre-written Python code to help you get it up and running right away. And if you're looking into expanding your programming skills, you may tweak and debug the car's code with Dragit.
The SunFounder PiCar-S Raspberry Pi provides a fun, educational experience for solo hobbyists and the whole family. Inverse readers can take one home now for only $159.99, but if you already own a Raspberry 3, you can opt for the base kit for only $119.99.