Arrowverse's "Crisis on Earth-X" Mystery Girl Will Return to 'The Flash'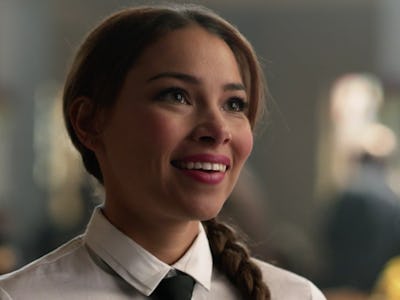 The CW
The latest Arrowverse crossover event, "Crisis on Earth-X," provided an awe-inspiring spectacle of super heroes fighting evil Nazi doppelgangers of themselves, but the one lingering mystery it also gave us was the curious appearance of a strange "Mystery Girl" at Iris and Barry's wedding.
Literally billed as "Mystery Girl," the character pops up just before the wedding ceremony as a waitress offering Barry water. They have an awkward conversion that screams "time traveler," leading most of us to believe that she might be Dawn Allen, Iris and Barry's daughter. We haven't seen the character since, but the actress behind her has revealed that she'll indeed return to clear things up.
In an interview with Bustle published Thursday, actress Jessica Parker Kennedy spoke about the secretive role and revealed that she will indeed return to the show this season.
"I'll be around," Kennedy said, "You'll see me at least one more time, I can tell you that." Clarifying just a little, she added, "You'll see me again on the show and things will make more sense."
This is hardly surprising considering how meaningly her scene with Barry felt.
She made awkward small talk before saying, "I'm really excited to be here … I mean — at a wedding!" The nervous and far-too obvious bumbling almost sounds like Barry.
She also said, "I feel like this will be one for the ages. I'm really happy I got to see it." Hyper sentimental — also Barry-like.
This spurs Barry to ask, "Have we met?" Which is classic sci-fi dialogue for, "I feel like I know you but only because you are my child from the future?" She claims to be a "total stranger" and grabs his arm to wish him luck before disappearing.
What role this new character will play does, however, remain a total mystery. Even on-set, she just goes by "Mystery Girl." Parker also spoke about hiding her true identity from the cast and crew of The Flash: "Because on set, all the other actors are like, 'Who are you? What's going on? What character are you?' And I just have to be like … 'I don't know!'"
"It's been a very secretive mission and it's been fun to be a part of," the actress said. When asked if she was, in fact, Dawn Allen or even Barry's granddaughter, Kennedy merely called them "interesting guesses."
The Flash can't return fast enough.
The Flash starts up again on The CW Tuesday, January 16 at 8 p.m. Eastern.