The Most Mind-Blowing Space Pictures of 2017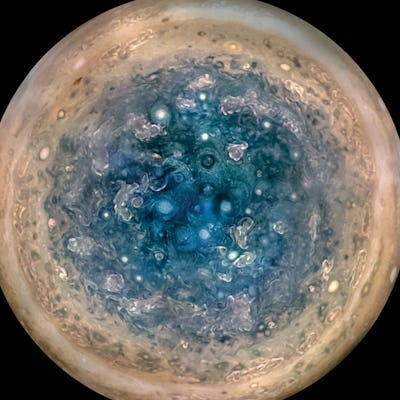 NASA/JPL-Caltech/SwRI/MSSS/Betsy Asher Hall/Gervasio Robles
In many ways, this year was pretty turbulent here on Earth. One could argue it was objectively terrible. But at the very least, we had some great space images to distract us from the terrors of the world and the existential despair we're all harboring because of it.
Below are just some of the pictures that gave us joy in 2017.
"Jupiter Blues"
This mesmerizing image was originally taken by NASA's Juno spacecraft on October 24, 2017, at 1:24 p.m. Eastern (10:24 a.m. Pacific). At the time, Juno was about 11,747 miles (18,906 kilometers) from Jupiter's cloud tops. Though all Juno images are available on its JunoCam site, this one was enhanced by citizen scientists Gerald Eichstädt and Seán Doran. The result is nothing short of dazzling. Goddamn it, Jupiter.
Enceladus Plays Hide-and-Seek With Saturn
NASA's Cassini spacecraft ended its 13-year-long sojourn in the Saturnian system on September 15, 2017. This image of one of Saturn's moons, Enceladus, peeking out from behind the planet, was taken on September 13. It's one of the last images it sent back to Earth, so please SHOW SOME RESPECT and mourn a legend.
"Jovian Tempest"
Juno really cannot stop flexing. Juno took this image on October 24, 2017, at 1:32 p.m. Eastern (10:32 a.m. Pacific) when it was 6,281 miles (10,108 kilometers) from Jupiter's cloud tops. This pic proves once again that Jupiter straddles a very thin line between terrifying and beautiful.
"Curling Prominence"
This plasma strand, called a prominence, was observed over the course of 30 hours between December 13 and 14. "We are observing charged particles streaming along magnetic field lines made visible in extreme ultraviolet light," NASA wrote in a press release.
Rare Encircling Filament
This image, captured sometime between October 29 and 31, shows a dark filament on the sun that is shaped in a peculiar way. Filaments usually look stringy, but in this case, it looks like a circle. Still, makes for one hell of a photo op.
NASA's Mars Reconnaissance Orbiter (MRO) captured Martian faults and deposits back in December. They're kind of trippy, no?
Jupiter's Southern Hemisphere
Holy SHIT, Jupiter. We get it. Stop bragging.
Juno took this magnificent image of the planet's southern hemisphere on October 24, 2017. It was processed on JunoCam by citizen scientists Gerald Eichstädt and Seán Doran.
"A Farewell to Saturn"
Sigh. It's hard not to get emotional looking at this magnificent image, which includes Saturn and six of its moons. This mosaic, released back in November, is a perfect tribute to the Cassini mission that ended just a few months earlier.