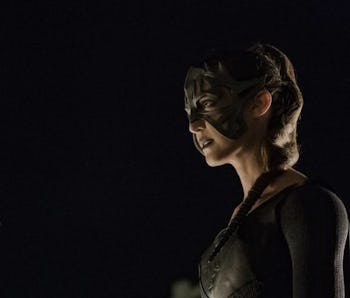 Entertainment
3 Wild 'Supergirl' Theories for the Second Half of Season 3
Things might get a lot worse for Kara Danvers.
The CW
Kara Danvers has had a rough year so far. She looked to be barely hanging on after receiving the mother of all beatdowns from her friend Sam Arias's alter ego Reign in the mid-season finale of Supergirl Season 3. And that's not to mention that her boyfriend turned out to be married, that she's struggling with her identity, and that she's helping her sister, Alex, through a horrendous breakup.
Season 3 isn't over yet, though. Supergirl will return on January 15, 2018, with "Legion of Super-Heroes," referencing the DC Comics team as well as DCTV's in-universe team founded by Mon-El in the 31st Century. Fans can look forward to Reign's reign, villainous businessman Morgan Edge causing even more trouble for Lena Luthor, and J'onn J'onzz continuing to adapt to his father's presence on Earth.
Supergirl isn't known for its wild plot twists, but that hasn't stopped fans from guessing at some wild theories. Here are three theories about what to expect from the latter half of Supergirl Season 3.
3. Mon-El isn't really married
Mon-El's (Chris Wood) return fell a little flat after Kara realized the love of her life had moved on. While living in the 31st Century for seven years, Mon-El fell in love and supposedly got married. Some hardcore Karamel (Kara and Mon-El) shippers have theorized that the marriage is fake. Imra Ardeen and Saturn Girl actress Amy Jackson supposedly commented on one of her Instagram posts to promise rudely enraged Karamel shippers that things would get better.
Whatever that means, Karamel shippers have been praying that Mon-El's marriages is fake or that something else will happen that will spur Mon-El and Kara to get back together. But considering that the latter half of Season 3 is expected to introduce another love interest for Kara: Brainiac 5.
2. There's more than one Worldkiller
There are five Worldkillers in DC's comics. We've only seen one in Supergirl. So, it would make sense for four more Worldkillers to show up by the time Season 3 ends. That's not to say Kara needs more of a challenge than she's already faced from Reign, but Supergirl has to top the mid-season finale somehow. It seems likely that the show would kick things up a notch with four more Worldkillers.
A move like that might also prompt Superman's return since Kara would need some help. So, that's also a plus.
1. Wonder Woman will make a surprise appearance
A promo for DC's Wonder Woman premiered during the Season 2 finale of Supergirl back in May 2017, raising questions about Wonder Woman's place in the DCTV universe. In the promo, Benoist's Kara dons DCEU Wonder Woman's boots and her Bracelets of Submission, saying that she got them "from a friend." Obviously, DC was just looking for a way to promote Wonder Woman to its television fans and there's no better woman for the job than Supergirl.
But let's blow this out of proportion.
This promo implies that Wonder Woman exists in the DCTV universe, that Kara knows her, and that Diana Prince trusts Kara with her Amazonian armor. And while it's unlikely that Gal Gadot would ever show up on a CW show as Wonder Woman, that doesn't mean they couldn't cast another Wonder Woman for Supergirl. We've already gotten Superman from Tyler Hoechlin. Why shouldn't we have Wonder Woman?
Supergirl Season 3 returns on January 15.