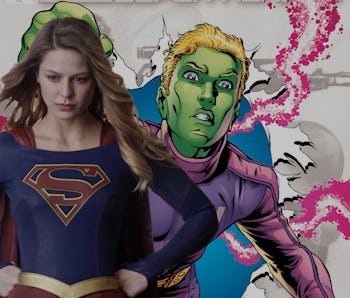 Entertainment
'Supergirl' Brings on Brainiac 5, a DC Comics Canon Love Interest
DC Comics, DC Entertainment
Kara Danvers needs some help moving on from Mon-El. She'll get it soon enough in the form of a green-skinned, blond-haired alien boy with a beyond-genius level intellect; but that intelligence might be the undoing of his relationship with her.
As reported by TVLine on Monday, Jesse Rath (Defiance) has been cast as Brainiac 5 for Season 3 of Supergirl.
For those of you who are fans of the CW's Supergirl but maybe aren't too familiar with her story in DC's comics, you might be wondering who this dude with the weird name and green skin is.
Brainiac 5 is Supergirl's most prominent love interest in DC comics, which hints that Kara could very well move on from Mon-El (Chris Wood) by the end of Season 3. But, interestingly enough, Brainiac 5 also has the skills to potentially bring Mon-El back to Earth with a canon anti-lead serum; the question is, which path will Supergirl take?
Supergirl co-showrunner Andrew Kreisberg has previously described Brainiac 5 as "someone down the road [who] will like Kara a lot, which will be a lot of fun."
Will Supergirl let Kara move on to another love or will it bring back Mon-El?
In DC's comics, Brainiac 5 is a long-time member of the Legion of Super-Heroes and, at one point, travels back in time from the 31st century (he's a future-dweller) to warn the Justice League and other heroes of imminent danger. Supergirl and Brainiac 5 eventually fall in love despite his being a recreation of a clone (sorry, it's complicated) of one of Superman's greatest enemies, Brainiac. He also, in the comics, creates an anti-lead serum that allows Mon-El to live in a lead-heavy environment, much like the one Kara and the DEO had to create at the end of Supergirl Season 2.
If Brainiac — who's already set to try and help Kara defeat the season's villain Reign, L-Corp CEO Samantha Arias (Odette Annable) — does end up creating this serum after he's already fallen in love with Kara, then things might get a bit messy between him and the Daxamite prince.
Needless to say, we're here for it.
If you liked this article, check out this video where the stars from Professor Marston and the Wonder Woman talk about how psychology helped created Wonder Woman.