Deathstroke Is Off-Limits to the Arrowverse Again, Thanks to the DCEU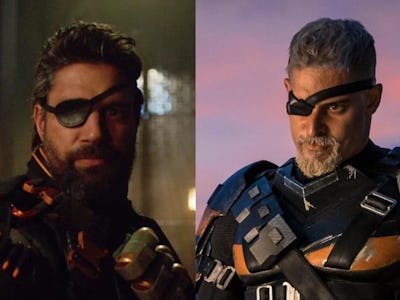 The CW / Warner Bros. Pictures
Warner Bros., which is behind the big screen DC Comics adaptations, has delivered the biggest nerf yet to The CW's Arrowverse by taking away one of its best characters: Deathstroke.
Now that Joe Manganiello has officially appeared as the deadly assassin Slade Wilson in the post-credits scene of Justice League, that apparently bars his Arrowverse counterpart on The CW from seeing any action. So despite Manu Bennett's version of the character having a prominent role in Season 6 of Arrow, it'll soon be time to say goodbye.
In an interview during ACE Comic Con published by Heroic Hollywood, Arrow executive producer Marc Guggenheim revealed the murky process that determines which characters they get to play with over in the Arrowverse:
"These are DC's characters, we're just renting them ya know, so we use the characters that they tell us we can use when we can use them, and we work around whatever limitations that places us."
Those limitations unfortunately include not allowing us to see cool team-ups like this:
"For a time they were saying 'you can't use Deathstroke,'" Guggenheim explained, "and that changed and we were able to have Slade Wilson back on the show, and now we're back to 'you can't use him.'" Now that there are plans in motion for the film version of Slade Wilson to appear in the DCEU, it appears that him being on Arrow is off the table — for now.
Guggenheim did mention, "there's these intervals, and we try and take advantage of our opportunities when we have them," which means we might see Manu Bennet pick up the orange and black mask again should there be a wide enough gap in DC's cinematic universe.
It's tough to when or in what capacity Manganiello's take on the character will return to the big screen, but based on the scene he appears in with Lex Luthor, chances are there's some sort of an Injustice League villainous team-up bound to happen. Since the exact future of the DCEU is somewhat in flux at the moment, though, it's unclear when that will be.