The 10 Best Podcasts of 2017
Covering topics ranging from Alabama to Westeros, here are the podcasts that caught our attention in 2017.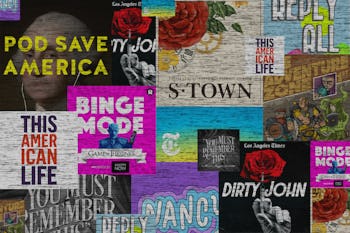 There was a lot to talk about in 2017, so amidst all the chaos and uncertainty, it felt right to listen now and then now and then. Thankfully, it was a banner year for podcasts, as while we were all trying to figure out just what the heck was going on in the world, they were there to explain it to us — or offer some sweet relief.
The best podcasts of the year dealt with major events, like what Donald Trump's first year as president was doing to the county, but they also told smaller stories, like a sordid tale of romance in deception in Orange County or the life and death of a horologist in Alabama. They explored the real world, the digital world, and fantasy worlds full of dragons and dungeons.
Podcasts are difficult to gather into a "Best-of" list, as the medium is interestingly personal. Listening to a podcast is almost always a solo activity, and while the most popular ones might spark heated IRL discussion (lookin' at you, S-Town), generally people enjoy them on their own. Listening to the same podcast on your commute every week isn't quite the same as gathering around a TV or heading to the cinema. The niche nature of the medium makes it a given that something is going to be overlooked, so forgive any omissions. Here's what Inverse was listening to in 2017.
10. S-Town
Brian Reed's trips to Woodstock, Alabama, at the behest of one John B. McLemore, are much more interesting than the supposed murder cover-up he originally came down for. S-Town, or Shit Town as it should really be called, isn't perfect — it excuses some of the more bigoted aspects of the town in the service of a more focused story — but it's a stunning and touching exploration into the life of a singular individual and the town he lived and died in.
Recommended episode: "Chapter 1"
9. The Daily
Here's what The Daily, the New York Times's aptly named daily podcast, tackled in the three episodes had aired so far the week this list was published: The Pentagon's UFO program and potential existence of aliens, heroes who respectfully bury abandoned bodies in poor, earthquake-ravaged Haiti, and how the Republican party pulled a policy 180 to kill Obamacare in a roundabout way. All of the stories are deeply reported and host Michael Barbaro delivers all the news that's fit to pod in an accessible yet authoritative way every morning.
Recommended episode: "The Climate Change Battle Through One Coal Miner's Eyes"
8. Nancy
Comparing any podcast to This American Life is high praise, but Nancy, WNYC's new podcast about LGBT issues and stories, earned the comparison in its rookie season. At times hilarious and heartbreaking, Nancy looked at what it means to be gay in a potentially unfriendly workplace, revisited Orlando for the anniversary of the Pulse Nightclub shooting, and called bullshit on J.K. Rowling just retroactively making Dumbledore gay. It should go without saying that anybody can connect with these stories, regardless of orientation, but hosts Tobin Low and Kathy Tu make it especially easy, as they convey abundant warmth, empathy, and experience. Disclosure: The writer of this post is friends with Nancy's producer.
Recommended episode: "Does Your Boss Know You're Gay?
7. You Must Remember This
As fans get caught in the Easter egg-filled weeds of modern cinematic universes, it's important to remember that there were movies before superhero blockbusters. Karina Longworth's You Must Remember This is an engaging, insightful podcast about the "secret and/or forgotten history of Hollywood's first century. The stories behind classic (and infamous) movies are full of intrigue, and Longworth even manages to make listeners who haven't seen the black and white TCM offering invested in the wild tales of the people who made them. The series on "Dead Blondes" is a morbid but sympathetic look at the classic Hollywood archetype, but "Bela and Boris" is a standout for exploring the men behind Universal's Classic Monster movies — perhaps the first shared cinematic universe. The more things change, the more they stay the same.
Recommended episode: "Bela and Boris Episode 1: Where the Monsters Came From"
6. Dirty John
The Los Angeles Times's acclaimed serial was a spin on the standard true-crime podcast, because by the end of Dirty John, you're glad there was a murder. The series tells the sordid tale of John Meehan a shitty, gaslighting con artist, and the lives he nearly ruined because his mark had a hard time escaping his snake-tongue. Dirty John is a mystery about why people act the way they do, rather than a whodunit.
Recommended episode: "Part 1: The Real Thing"
5. Reply All
When 4chan and vile memes change the course of American history, you'd best understand the weirdest, worst, and most inscrutable parts of the internet if you really want to understand what's going on. Enter Reply All, Gimlet's flagship internet and culture podcast, which is here to explain the web, technology and how they impacts the meatspace. While ambitious stories like a deep dive into Facebook's rumored IRL spying, tracking down a Russian hacker and exploring the password black market, and dalliances with LSD are impressive, the show's "Yes, Yes, No" segment might be the most helpful. In it, hosts Pj Vogt and Alex Goldman explain inane internet terms and events like "Milkshake Duck" to their boss. The web is a strange, beautiful hellscape, let Reply All guide you.
Recommended episode: "#109 Is Facebook Spying on You?"
4. This American Life
This American Life makes pretty much every best podcasts list pretty much every year, but it's a staple for a reason. The first year under Trump might've been the public radio mainstay's most ambitious — and important — year yet. The show dedicated several episodes and countless hours of reporting to exploring an issue that's often talked about, but rarely seriously looked at: Immigration. In "Fear and Loathing in Homer and Rockville," TAL explores what the perceived threat of illegal immigrants does to a small Alaskan town with virtually no immigration, while "Our Town" is an immensely thorough look at what actually happened to the Alabama town whose supposed immigration woes are a go-to talking point for the Trump Administration.
Recommended episode: "Fear and Loathing in Homer and Rockville"
3. Binge Mode: Game of Thrones
By my rough estimate there are more podcasts recapping HBO's Game of Thrones than there are named characters in the entire A Song of Ice and Fire series. But, The Ringer's Mallory Rubin and Jason Concepcion, two longtime fans of the books and show with engaging chemistry and deft understanding of storytelling, took it to another level when they did a retrospective recap of all 60 episodes of the show leading into the seventh season. Each episode of Thrones got a full podcast episode of analysis that went beyond fan theories and reactions to examine how George R. R. Martin's complex world actually works, and why the story resonates with so many people. All the Reddit theories in the world pale in comparison to Rubin and Concepcion's episode-by-episode breakdown of the fundamentals that allow Game of Thrones to soar, dragon-like, into our hearts.
Recommended episode: "S7E7: 'The Dragon and the Wolf'"
2. Pod Save America
Pod Save America began as another The Ringer podcast, the now-defunct Keepin' It 1600, a politics podcast hosted by a group of charismatic former Obama administration staffers. They went into the 2016 election confidently, and like so many people, were floored by Donald Trump's election. It was a wake-up call, though, as hosts Jon Favreau, Tommy Vietor, Jon Lovett, and Daniel Pfeiffer went on to start their own podcast company, Crooked Media, with Pod Save America as the flagship show.
Trump's victory showed that democrats can't just assume everyone will understand that the other side is worse, they need to actually argue for it, and that's what Pod Save America does. Gone is the false confidence of Keepin' It 1600, replaced instead by smart advocacy, interesting interviews with rising political stars and figures, and the sense that preaching to the choir is especially meaningless if you can't get 'em to actually do anything.
Recommended episode: "Denouncing Nazis Is So Fucking Easy"
1. The Adventure Zone
The podcast landscape is dominated by non-fiction, and for good reason, as audio is a near-perfect medium for news and immersive features. And in 2017, which was by all accounts a rough year (see: Pod Save America above, for more), it feels a little odd to put a work of fantasy at the top of this list. But, The Adventure Zone surpasses escapism.
The podcast, a spin-off from the three McElroy brother's flagship podcast My Brother, My Brother, and Me, sees brothers Justin and Travis and their dad, Clint, play Dungeons & Dragons in a years-long campaign orchestrated by their brother and DM, Griffin. The campaign, which began in 2014 on a lark, concluded in 2017, having evolved into something able to conjure tears from both uncontrollable laughter and immensely rewarding moments of catharsis. With Griffin's masterful plot as a roadmap, a real-life family improvised their way into a story that dealt with the pains and responsibilities of memory and forgetting, and serves as a testament to the importance of the family you find.
The adventures of Magnus the human fighter, Merle the dwarf cleric, and Taako the elven wizard, has ended, and the gang is working on figuring out what "Season 2" will be, but 2017 marked the end of a truly fantastic campaign.
Recommended episode: "The Adventure Zone Ep. 66. The Stolen Century - Chapter Seven" (But you really should start with Episode 1).